Wow, did I just say that?

This article is a B. It is missing three or fewer sections, or some images need to be added. Please do what you can to help!
This article is about a fairy that appears in the first season. You may be looking for another Alice.
Alice is a fairy who attends Alfea that has ice powers.
Appearance
She is an elegant-looking girl with long, grayish blue hair that is somewhat curly. Her lips appear pink, while her eyeshadow seems purple. Her eyes look to be blue-gray.
She wears a blue ballon sleeve shirt with the front appearing ice blue outlined in purplish-black and she wears a purple knee-length skirt that has an opening in the right side. She also wears blue knee socks with tall purple boots.
She wears an ice blue collared jumpsuit with shorts and a piece of blue on the back and side of her chest also, connected is a purple cape. She wears the same boots as her civilian outfit only lacking socks. Her wings are magenta/pink.
Personality
Alice is shown to be nice, and at times is flirtatious. But she's also shown to be brave as she's been shown to help Alfea fight certain enemies.
Series
Seasons
Specials
The Shadow Phoenix
Alice can be seen cheering on at Red Fountain, celebrating the newly built school with her classmates.
Comics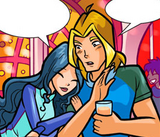 Season 3
Alice's debut is but a very brief one as she only appears in the first panel of Suspicion and Deceit where she can be seen walking in the same direction as Trista as the two of them, as well as many of their other classmates, are surprised by Tecna rushing up the staircase and down the halls.
Alice has a more prominent appearance in Issue 59: Winx Band as she now has a speaking role. It is still a very minor one, though, as she does not appear until halfway through at Magix City's Central Nightclub under the name Jenny.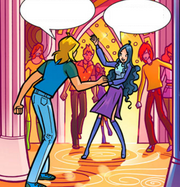 Here, Jenny bumps into Sky while he and the rest of the Specialists are watching the Winx perform yet another band gig. She is surprised to see Sky all by himself, noting that he is almost always with Bloom, and decides to take this as an opportunity to dance with the Eraklyon Prince. The two dance awfully close to one another out on the dance floor after Sky ultimately accepts Jenny's invitation, and Bloom catches a glimpse of this while she performs onstage. This later sparks tension between her and Sky once their performance is over as she becomes jealous at the idea of Sky using the Winx's now-busy schedules to get close with other girls.
Magical Abilities
Alice possesses the ability to magically control ice.
Alice may know some basic, first-level spells that all fairies can use, such as telekinesis, transmuting objects, and fixing minor messes. Her magic is yellow and orange in color.
Trivia
Alice shares her a common power with that of Icy, her ancestor; Belladona, and Aurora. Additionally, she also shares this trait with Astrid in the comics.

Naturally, this makes her powers the magical opposite to Bloom's.

Her name has old German origin and means "noble, exalted".
Community content is available under
CC-BY-SA
unless otherwise noted.