Kind of, but we have better style.

This Article is an A! It has all the sections and images in place, making it complete. Only edit if you think it can be improved.
Amore is the Pixie of Love (Pixie of Feelings in the Nickelodeon dub). She is Stella's bonded pixie. She debuts in the first episode of Season 2, and also the first episode of the PopPixie series.
Appearance
Winx Club
Amore's hair is a dark magenta colored, which is long and always worn down. Her eyes are dark blue, her lips appear to be a dark maroon color.
In Winx Club, her sensitive nature is mirrored in her appearance. Amore wears a light pink puffy-sleeved dress and green headband with roses attached. Her wings are also green and they slightly resemble Stella's.
On season 6 forward Amore's civilian clothes is similar to her PopPixie clothes, with the exceptions being her shirt collar and the sash at the bottom of her skirt are magenta.
PopPixie
Civilian
Amore wears a light pink top blouse with puffed sleeves and a looser, slightly darker puffed skirt with a green bow piece on the left side attached to a string going around the bottom. In her hair is a thick green headband with a green and yellow heart attached to it.
PopPixie Form
Amore wears a pink dress with a darker pink skirt piece underneath it and a pink rose at the center of her chest with a pink strap that goes around her neck and thinner green straps at her shoulders. She also wears pink roses at the toe slip on shoes and above the elbow of her white-pink gloves. In her hair is a very thin green headband-tiara piece with a green heart, and a purple heart attached on the left side of her head. Her wings are an off pink color and very wispy.
Personality
Amore is sweet, nice, and a pacifist. Like her bonded fairy Stella, she is into romance and likes matchmaking. She is calm even in the most grievous tragedies. Also, her life as a pixie was expanded. She has mutual romantic feelings with Ranger Robinson, and is one of the closest best friends of the major pixies of the series. Amore believes in her mission of making people fall in love. Amore is believes the world is a place where everyone loves each other. Because she is a pacifist, she does not do battle, instead, she thinks of a more peaceful way. She can count on her assistants: Otis, a male hippopotamus, and a watchful but rather grouchy owl.
Comics
Winx Club
Season 1
This section lacks information. Please help us by expanding it.
Season 2
This section lacks information. Please help us by expanding it.
Season 3
This section lacks information. Please help us by expanding it.
PopPixie
This section lacks information. Please help us by expanding it.
Magical Abilities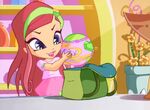 With her MagicPop power, Amore captures the bad thoughts of people and controls the negative feelings, calming them down. She is considered as the third most powerful female pixie.
In "The Legendarium", it is seen that Amore and the other pixies are able to teleport.
As seen in "Broken Dreams," whenever Amore is in danger/trouble, she is able to send a psychic alert to her bonded fairy to notify her about her current condition.
Uses of Magic
Etymology
Trivia