An arena packed with beauty queens... I'm scared to go in there.

This article is a C. It is missing three or more sections and has little to no imagery. Anything that can be added will be appreciated highly.
This article is about the animals from the PopPixie series. You may be looking for the animals from the Winx Club series.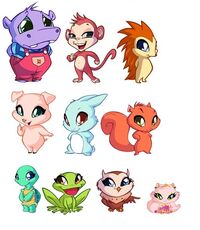 PopPixie's animals have an active role in society just like the Pixies and Gnomes. They work and have the same rights as the other citizens of Pixieville. Unlike the pixies and gnomes, however, the PopPixie animals live in lairs and houses of the forest community in Pixieville. Each animal is the assistant or companion of an assumingly bonded pixie or elf.
They are similar to the Pixie Pets that appear in Winx Club.
Appearance
With either small wings or none, on Pixieville most animals are able to talk, do chores helping out the Pixies and some wear clothes. Varying from 5cm to 10cm tall, PopPixie's animals are generally small creatures with heads that are larger in comparison to their body.
PopPixie
This section lacks information. Please help us by expanding it.
List with all PopPixie's Animals
This section lacks information. Please help us by expanding it.
Pixies' Animals
Elves' Animals
Gallery
Main article: Animal (PopPixie)/Gallery
Community content is available under
CC-BY-SA
unless otherwise noted.