The
Beast of the Depths
is a monster the
Trix
commanded to attack the
Winx Club
and
Daphne
in the first episode of
Season 6
, "
Inspiration of Sirenix
". According to Daphne, the beast can never die, but can be controlled by the Nymph of Domino. This creature is also immune to the
Dragon Flame
.
Appearance
Coming soon...
Powers and Abilities
Coming soon...
Series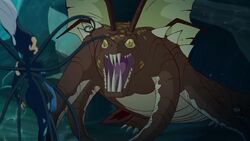 During the celebrations, The Trix command the Beast to attack Daphne. While Daphne is frozen with horror, the Winx and the Specialists attack the Beast with no prevail.
Later on, the Winx convince Daphne that she can transform into her Sirenix form and will be able to drive the Beast away. Daphne succeeds in transforming and commands the Beast to return to the depths of the ocean.
Trivia