Wow, did I just say that?

This article is a B. It is missing three or fewer sections, or some images need to be added. Please do what you can to help!
Bera is a character introduced in Season 1. She was a contestant for the title of Miss Magix.
Appearance
Bera has medium brown skin, dark gray eyes, and curly black hair.
Civilian
She wears her hair in an updo with two strands loose in the front. She wears a short sleeved crop top with a cheetah print on it. Underneath it she wears a pink shirt. She wears dark green pants with pockets on the sides of her legs paired with beige wedges.
Miss Magix
Her contestant outfit is a light pink, one piece, bodysuit with a transparent darker pink skirt on top. She wears a white brooch with the number five on it, and light pink high heels.
For her talent outfit, her hair is black and in an up-do, she has white beads that decorate her hairline, a necklace with five white circles, a Marilyn Monroe dress but is shorter, and white heels.
Personality
Not much is known about Bera but she is shown to be happy for those who won something even if she was aiming for the same thing.
Series
Season 1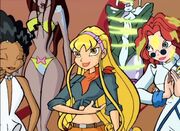 In "Miss Magix," Bera participates in the annual Miss Magix Contest and is Contestant Number 5, before Stella. Her talent portion was not shown on screen but like the rest of the contestants (minus Stella), her talent show was sabotaged. When Lucy was crowned Miss Magix, she witnesses the enchantment spell removed from her, revealing her true self. She watches as the humiliated Lucy runs off the stage crying. With that, the crown goes to the runner-up: Stella. Bera smiles at Stella when she is made the winner.
Season 2
After defeating the Trix and the start of a new school year, Bera is seen roaming the Alfea quad as the party preparations are still underway. The party finally begins and she alongside her classmates listen to Faragonda's speech about the battle and thanking one fairy in particular, Bloom. Bera is standing with the Winx and watch as Bloom is about to step on stage who then urges her friends to join her, after all they also helped in the battle.