Kind of, but we have better style.

This Article is an A! It has all the sections and images in place, making it complete.
Bloom's Guardian of Sirenix is one of the six Guardians of Sirenix featured in Season 5 and Season 6.
Appearance
She has blue hair, blue eyes and blue eyelashes. She has pale blue skin and a pink shell on her forehead. She wears a blue and pink shell shaped top and has a blue tail. She has a pink ribbon on her tail and on her right arm.
Personality
Unlike Stella's Guardian of Sirenix, she shows her care to the possessor of her Sirenix Box. This was proven when she said that she heard Bloom crying, so she went out of her box and gave her an advice. In Season 6, she is seen to be the leader of the group because she was the one who spoke their plan to the Winx: To find the Inspiration of Sirenix in the "Source".
Series
She is first seen in "Sirenix", when Bloom realized the meaning of the book's riddle, so she told her reflection to her Sirenix Guardian. Because of this, she gave them the next clue to acquiring Sirenix. Bloom figures it out and she tells that they have to go to the place were they started. Then, she is seen with the other guardians to give the power of Sirenix to the Winx.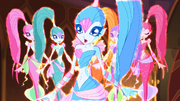 She is seen in "
Inspiration of Sirenix
" along with the other guardians, helping the Winx help
Daphne
restore her confidence to fight the
Beast of the Depths
. After discussing how to help
Daphne
with the other Guardians, she tells the Winx they must find the Inspiration of Sirenix.
Gallery