Bloom and Sky are a couple featured in Winx Club. They are formally introduced to each other by Stella in Season 1, with Sky being introduced under the name "Brandon" due to assuming his squire's name for security purposes.
Overview
Bloom and Sky are a close couple whose relationship has endured many ups and downs throughout the course of the series. Though there are times where their wills can waver, they have both been incredibly loyal to one another and their relationship has still managed to survive all of the trials they have faced. This leads to Sky asking Bloom to be his princess at the end of the first movie, The Secret of the Lost Kingdom and formally asking Bloom to marry him towards the end of Magical Adventure. In both instances, Bloom accepted happily, and the two have been engaged ever since.
Series
Seasons
Movies
Bloom was watching the girls become the Guardian Fairies of the Magic Dimension when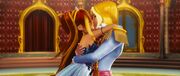 Sky came there to comfort her. Bloom and Sky were later seen dancing in the fields of Alfea. Sky was telling Bloom something but he was disturbed by a ship from Eraklyon. Later on, after Bloom dreamed about
Daphne
telling her about admission to
Domino
, she later wakes up and goes into the living room and saw the Winx and the Specialists (minus Sky but came in as a surprise). Bloom was still disturbed by the Eraklyon ship that picked Sky up earlier, fearing for the worst. Sky tries to explain what it was all about, but she tells him to explain after the mission since she did not want to risk getting distracted emotionally. During the battle with Mandragora and the Ancestral Witches, after Stella, Flora, Tecna, and Aisha get defeated, Sky entered the dimension and pulled out the Sword of Domino despite Bloom's protests that doing so would kill him since he is only a prince. He apparently died from the sword's curse, devastating Bloom, but was taken by surprise when he suddenly got up to save her in time from a possessed Mandragora. Bloom then learned from Sky that the transport from earlier that picked him up was to get him to his coronation as King of Eraklyon, making him the "crownless king" in the legend, thus allowing him to use the Sword of Domino without hassle. At the end of the movie when they have saved
Domino
Bloom has a princess ball, she dances with Sky. While dancing they pass by Stella and Brandon, Brandon passes a box to Sky which contains a ring. Sky whispers into Bloom's ear saying "will you be my princess?". Bloom says yes in the form of a loving kiss.
Things were going great for Sky and Bloom as they are now engaged. However, when Sky's father, King Erendor, found out that Sky's intention is the Princess of Domino, he tells his son to cancel the engagement, much to his confusion and shock. He demanded to know why his father would ask him of such a thing, where he revealed a dark truth about his kingdom and its relation to Domino... Bloom became devastated when her engagement to Sky was just cancelled, which her father, Oritel, took as an insult. As a result, Bloom was met with several possible suitors, none who could hold her interest. Finally, she was met by a disguised Sky whom she recognized and was in the midst of explaining what happened, but was caught by Oritel. Not giving Sky a chance to speak in his defense, he banishes him from Domino. Bloom is angered at her father's actions and leaves for Earth in retaliation as she did not want to be near him for the moment. On Earth, after Oritel finally managed to listen to reason thanks to Marion, tries to apologize to Bloom for what he did to Sky, but like he did with him, Bloom refuses to give him the time of day and bluntly states that she is going to meet up with Sky whether he approves or not. The Winx and the Specialists took an airship to find the tree of magic, before it was overrun by doppelgangers. Bloom and Sky managed to successfully fight off their and each other's fakes. Even while kissing, they took down two doppelgangers trying to blindside them. After the final battle once the Ancestral Witches and the Trix defeated, Oritel and Erendor make up, and give their children their blessings for their engagement.
Bloom along with Kiko leaves for Gardenia to spend a whole day with Sky. Then, they seen enjoying their day, and eat ice creams.
The Trix go to Gardenia and attacks Bloom and Sky, though without her friends, Bloom tries to fight with the Trix alone but fails to do so and falls unconscious. The Trix capture Sky and take him to the Infinite Ocean, where they tie him to the Throne and cast a spell on him so he was bound with the Emperor's Throne.
Bloom regains her consciousness. Flora tells her that something is going wrong in the Infinite Ocean and Stella asks Bloom where is Sky to which she answers that Sky has been kidnapped by the Trix and they took him to the Infinite Ocean. She tells them that they have to hurry to the Infinite Ocean to save Sky.
In the
Oblivion
,
Bloom
wakes up in an empty room, and a dark illusion of herself appears and tells her that she has abandoned
Sky
but
Bloom
realizes that she was in the
Oblivion
.
In the Emperor's Throne, Sky breaks free from the Throne, but instantly falls on the ocean floor, because of the spell put on him. Later, Omnia use the pearl to heal Sky.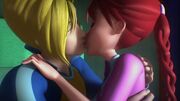 Sky
wakes up and ask what happen to the
Trix
and
Tritannus
.
Bloom
says that the
Trix
fled and
Tritannus
is once again banished to the
Oblivion
and the pearl is back to where it should be. Then,
Bloom
and
Sky
kiss. Then,
Kiko
comes and gives an ice cream to
Sky
and he says he is dying for an ice cream and everybody laughs.
Bloom
and
Sky
was also seen dancing in the
Gardenia
park at the of the movie.
Comics
Songs
As a couple, Bloom and Sky have a few songs:
Gallery
Main article: Bloom and Sky/Gallery
Trivia
Out of all the main couples, Bloom and Sky are the only couple in which both parties have a known ex-lover: with Andy being Bloom's ex-boyfriend and Diaspro being Sky's ex-fiancée.

However, there are some couples in which at least one of the above statements apply:

The kiss that the two of them imagine sharing during the Season 1 finale actually happens in the comics as evident in the beginning of Issue 13: Moonlight when the Winx tease Bloom about it being proof of her and Sky's relationship.
Currently, there has always been a character that stood as a hindrance to Bloom and Sky's relationship in at least one episode of the eight seasons that have aired.

Seasons 1, 3, 5 and 8 had Diaspro cut between the two in some way; mainly by exploiting Sky's difficult life as a crown prince/king.
Season 2 had Professor Avalon due to Bloom's short-term crush on him.
Season 4 had Andy, Bloom's ex-boyfriend, suddenly step into the picture while the two were already engaged in an argument.
Season 7 had Elas, Bloom's Fairy Animal, become jealous of Sky trying to be close with Bloom.

Currently, out of all the main couples, Bloom and Sky are the only couple to appear in the World of Winx comics series.
On April 12, 2019, there was a poll conducted on the Winx Club Instagram's Story on whether Bloom and Sky will split up. 51% voted "Yes" while 49% voted "No".
Community content is available under
CC-BY-SA
unless otherwise noted.