Wow, did I just say that?

This article is a B. It is missing three or fewer sections, or some images need to be added. Please do what you can to help!
The Bookmark Pixie (Segnalibro in Italian) is the Pixie guide from "The Mysteries of Alfea."
Appearance
The Bookmark Pixie appearance is based in shades of violet. She has light salmon skin, fandango (reddish violet) eyes and hair, in a spiky haircut. Her outfit is composed of French mauve shirt, lilac belt and headband, Chinese violet pants and fandango boots. Her wings are round and light blue.
Personality
This section lacks information. Please help us by expanding it.
Comics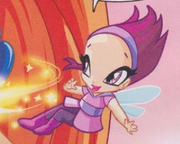 Bookmark Pixie debuted in "Issue 140: The Mysteries of Alfea" after Bloom entered the magical book "The Mysteries of Alfea." The Bookmark Pixie guided Bloom through the halls and rooms explaining about each place. While Bloom and Bookmark Pixie were facing a dragon, the Winx discovered that the book was actually a teleport to a cave in Alfea's underground. To reach it the fairies had to melt a wall that locked the place, and by such they freed the Bookmark Pixie and her new dragons friends. In the end the Bookmark Pixie suggested to become keep being the guide of those underground halls.
Trivia
She appears in 10 pages from the magazine.
Her hair style is similar to that of Riven.