Winx Club Forever

This article has been completed. Only edit if you think it can be improved.
The Bride of Frankenstein is a fictional character in the Legendarium World in Season 6.
Appearance
The Bride of Frankenstein has floating, blue, heart-shaped, frizzy hair with lightning-like side bangs. She also wears a long indigo gown, black gloves without hand at the size of an arm, and a pale purple cape. Her skin is pale green almost white. She has long dark nails, and she has dark make up on. 
Series
Season 6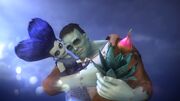 In "A Monster Crush", Stormy asks Selina to find a legend which she can portray to make Tecna overstay in the Legendarium World. While fighting the Winx, she was strengthened by Tecna to make Frankenstein's Monster fall in love with her, freeing Tecna once and making Stormy wanted by the monster.
Magical Abilities
The Bride of Frankenstein has the ability to shoot electricity from her hands. She can also create a twister of lightning around her and jump to distant places. Similar to Frankenstein's Monster, she can be empowered by electricity and volts of lighting.
Trivia