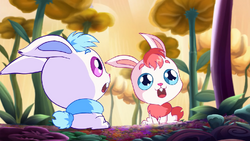 The Bugbunnies are a species of Fairy Animals which appear in Season 7.
Overview
The Bugbunnies are residents of the Flower MiniWorld.
Appearance
The Bugbunnies look like white small bunnies, but the only difference is that they have a lock of hair on their foreheads and scarf-like hair around their necks. Their hair colors and eyes colors are varied.
Series
Season 7
This section lacks information. Please help us by expanding it.
Trivia
The name "Bugbunny" may be a pun on the character Bugs Bunny.
Gallery
Coming Soon...