An arena packed with beauty queens... I'm scared to go in there.

This article is a C. It is missing three or more sections and has little to no imagery. Anything that can be added will be appreciated highly.
Chiko[1] is Tecna's Fairy Pet.
Appearance
Civilian
Chiko is a yellow chick with orange eyes. She wears a small corn-shaped hair tie over her hair. Her wings are green.
Before being transformed she used a dark blue ribbon instead of her corn-shaped hair tie.
Workout
Chiko's workout outfit consist of a blue bow, leotard, and light blue gymnastic wristband and headband.
Overalls
Chiko's overalls is light blue with details in green underneath it, and two orange heart buttons. At the back there is space for its wings and tail to be off the outfit.
For accessories Chiko uses a light blue visor with details by the same colors as the overall.
Personality
She is very much into video games and technology just like Tecna, and also loves to play physical games too and is very active.
Series
Season 4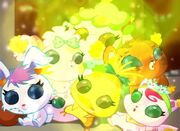 Chiko was one of the plush toys Flora uses magic on to bring to life. After being brought to life, she makes occasional appearances in the Love & Pet store with Tecna. Chiko was also there with the other pets during Roxy's fight with Gantlos, helping Roxy gain her wings.
In "Mitzi's Present" Chiko workout beside Pepe and Milly under Aisha's training.
In "The White Circle," she and Tiger had ran a catwalk to showcase their outfits, being Chiko's a overalls. In the end she plays with the other pets and Kiko at the beach.
In "Winx Club Forever!," Chiko falls asleep beside Tecna while she works in her computer, and remains there beside her till the next morning.
Comics
Season 4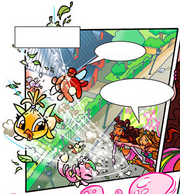 In "Issue 60: Future Adventures," Chiko was the first Fairy Pet downloaded by the Winx when the group traveled to the future. Tecna was the one that picked it. Chiko almost flew away with the other pets because of the Trix magic, but they were saved in time by the Winx. In the end Chiko and the other pets went to the past, to the Winx timeline, and stayed with the girls.
In "Issue 67: Magix Virus," Chiko and the other pets appear inside the internet world and guide the Winx to a pile of data. Later on, the pets brought the emojis to eat the viruses and by such help the Winx to clean the internet from it. In the end the Fairy Pets exited the internet world with the Winx.
Books
In Perle, among the others pets, Chiko is taken to Andros via Zoomix and participates in the summer party. Still in Andros, in Tecna's room, she was sleeping in a basket adapted as a pet bed when she got startled by Tecna screaming "BINGO!"
References