It's time for a new look!

This page is currently under maintenance. Therefore, please refrain from editing temporarily until the page is finished. We hope to have the page completed as soon as possible.
Development Stages
An animated pilot episode called "Magic Bloom" began production in 1999 and was finished in 2001. It was test-screened in 2002. In a video interview, Iginio Straffi said that the pilot cost €100,000 to make, but he was very unsatisfied with it.
Character Design
Magic Bloom had earlier character designs that did not make it into the final production.
Winx
Flora wore glasses and had purple hair.
Musa was intended to have short green hair and green eyes.
At the Lucca Comics & Games convention in 2018, the pilot's transformation sequences were shown. It revealed that the Winx members' names were the same, except for Stella, who was supposed to be named "Sasha".
The Trix wore outfits that resembled their ancestors' outfits. Most noticeable is the similarity of Icy's outfit in the pilot with Belladonna's final outfit, with her cape collar just like Belladonna's, which has been used in some promotional artwork. More coming soon...
Miscellaneous
Videos
Photos
The name of the show was changed to "Winx, Just Fairies" in 2002, while the first season was in production.
Official Synopsis
"

Fairies and Witches have been fighting forever, in the name of Good and Evil. Somewhere in the Universe this battle begins... Bloom and her aspiring-fairy friends will be the protagonists of the most exciting adventure of all time.

"
They are smart, they are stylish, they are magic... they are THE WINX!
-Pilot available
-Multi-layered show with elements for both boys and girls
-Action sequences, attitudes and displays of power, strength and magic for boys
-Fashion, friendship and lots of music for girls
-Wit and humor will also lace this newest offering on the animation."
On some storyboards, the title of the series is "The Winx" (stylized as "The WinX").
Deleted Scenes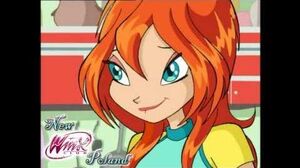 There were some deleted scenes of Season 1 that were available to watch:
The scenes of the Winx's transformation.
The scenes of the Specialist fight against an octopus-like monster.
Noticeably, there were some changes in comparison to the finalized Season 1:
Bloom was intended to transform by spinning.
Flora's final pose included an transparent embossed four-petaled flower on the background.
Stella's final posing background was altered.
Stella's Winx had a brighter range of color.
The Specialists seemed to use phantoblades only.
The phantoblades was intended to only be glowing, not glowing and translucent.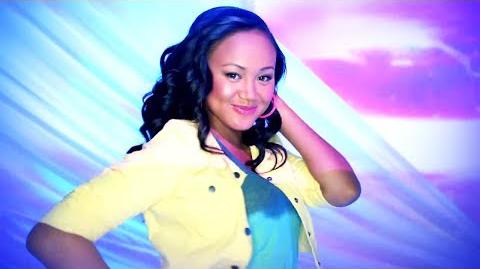 There were some deleted scenes of the Specials that were available to watch:
Bloom winking to the viewers.
A possible deleted part of Aisha's Magic Charmix.
There were some deleted scenes of Season 5 that were available to watch: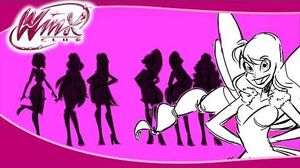 There were some deleted scenes of Season 7 that were available to watch:
The scenes where Bloom is sitting at Alfea feeling sad.
The scenes where the Winx are seen flying in their dinosaur costumes.
The scenes where Brafilius is using his hat to attack the Winx.
The scenes where Stella is seen dodging Brafilius' attack and Bloom attacking Brafilius.
Character Design
Roxy
Originally, Roxy's eyes were yellow and her long-sleeve top was cyan instead of sea green. These were later changed, however, they can still be seen in some scenes in the finalized series, such as in "The White Circle" or in the opening scenes of Season 4.
Others
Magical Adventure
The Mystery of the Abyss
Magical Creatures
Fairy Forms
In the early concept art, the Winx had bigger wings. The wings were in solid colors, instead of translucent colors. With the exception of Musa, who had noticeably changes in the first fairy forms, the outfits of the rest of the Winx did not change much:
There were two strips of cloth on two sides of Bloom's outfit. She also wore a dark blue legging. And instead of having two pieces, her outfit was in one piece. The collar was altered, the gloves were more puffed and tied by the ribbons at her elbows. There were yellow strings used to decorate the dress, which were connected to the jewel on her chest. Two more gold jewels attached to her boots, connected to antenna-like fabrics. The boots received the dark blue design on top of them. Her wings were in light cyan and white.
Stella's hair ties were blue instead of orange. Her headband was decorated with yellow spots instead of being solely blue. Her top was off-shouldered and stayed in orange color. There was a silver ring connected the top and the bottom. In the center of the bottom, there was a dark orange fabric, the rest of the bottom was decorated by orange and yellow triangles. Her armbands were longer and attached two yellow jewels. Her boots were shorter and also attached two yellow jewels. Her wings had one more leaflet and stayed in Bloom's wings' colors.
Flora's theme color was yellow/cream instead of pink. The dress was also more puffed. Her choker was in chartreuse-color while the flower/ribbon was spring green. Her gloves were also more puffed and resembled separated sleeves. She wore spring green high-heeled shoes, decorated by two matching strips and light green leaf-shaped fabric on each side. Her wings were in spring green and lime.
Tecna also had lime jewels not only on her helmet but also on her dress just like Bloom and her boots. The jewels near her ears were also lime green instead of cyan like in the present. The collar, sleeves and gloves were altered. There were two laser guns attached on her gloves. There were two yellowish green lightning-shaped antenna-like objects decorated her helmet and two light purple strips of cloth decorated her outfit.
Musa: Coming soon...
Bloom: In the promotional artwork for Season 3, Bloom's Enchantix outfit color scheme was more elaborate than in the series, which ran from blue, green, yellow until pink.
Aisha: In the prototype version of Aisha's Enchantix, it is revealed that Aisha's hair was supposed to be longer and she had a different dress.
Tecna: In the planning stages, Tecna's Enchantix wings had lower limbs, but were later changed in the finalized series. However, it still can be seen in some scenes, such as in "Wizard's Anger". The likness of her wings with the lower limbs can be seen on her key to the Hall of Enchantments. Her hair were also noticeably longer.
Stella: Her costume would be basically the same as that shown in the series, but with a few minor details. Her hair is noticeably longer and in a different style, with a more complex and elegant hairstyle. Her makeup is more detailed as well.
When news about the release of the Season 4 was out, there is a picture of Winx, transformed into their Believix with small wings, different hairstyles and a more casual look, compared to the style seen in the series. Furthermore, it is noted that Sky and Helia had another civilian outfit.
In the early concept art, Harmonix had a gothic appearance with darker hair colors and lace leggings with ribbons wrapped around them.
For the current version of Harmonix, some members also have different hairstyle before the final version was revealed.
Originally, the Winx's Bloomix wings were different, they would have a more appropriate appearance with the plot of locking the Legendarium with the appearance of a warrior. Their concepts were seen in the Season 6 trailer towards the end and in the Season 6 opening as well.
Noticeably, in the promotion artworks as well as the 2D animation, Mythix is always related to the prototype/concept designs. This can be seen in "Winx Forever", in which Bloom's hairstyle is ponytail, while in the 3D animation (Legendarium World and transformation), her hair is untied.
Bloom: Shortly after the release of the Season 6 trailer, a YouTube User named "Winx Club Rus" uploaded an alternative version of Bloom's Mythix, in which the details were preserved attire but she wore a hairstyle similar to her Sirenix, her expression was more relaxed and her wings had much glitter and a bit color.
Flora: In the prototype artwork of Flora's Mythix, a part of her hair was tied into two little ponytails and the rest of the hair was untied. The belt and ribbon on the belt were also altered in comparison to the final design. The flower on her hand was supposed to have vines and other features. The flowers on her hair also had the green leaves/ribbons.
Stella: In the prototype artwork of Stella's Mythix, her hair and her outfit were supposed to be in brighter yellow/gold shade and she had glitters and stars at the end of her hairs. Her boots were attached with two flowers on each side instead of one like in the final design. Her bangs, dress and boots were also slightly altered in design.
Tecna: Her bangs were designed to be shorter and the flower decoration on the right shoulder was supposed to be on her right chest. Her dress was also slightly altered in comparison to the final design.
Bloom: In the prototype version of Bloom's Butterflix, she did not have a butterfly on her hair but a matching flower-like object, her wings were bigger and colorful and almost similar to her Mythix, her dress had more colors and her hair was long with braids and stayed in a simple ponytail, her arms wore a ribbon like in her Sirenix's, her shoes were also barefoot sandals, which were similar to her Enchantix's.
Musa: In the early concept art, Musa has pigtails but later was changed into a ponytail.
Backgrounds
Domino
Solaria
Linphea
Melody
Zenith
Earth
Storyboard
Trailer
Storyboard for Season 4 trailer done by Simone Borselli.
Episode 3
Episode 4
Episode 11
Episode 22
Episode 24
Episode 25
Miscellaneous Episodes
The Secret of the Lost Kingdom