Convergence is the strong, joint force of multiple magic users.
Overview
At Alfea, convergence is taught in the second year. However, this type of skill is not restricted to just one type of magical being. According to Darcy, a convergence spell requires harmony among the participants. The participants must focus on one point to cast a convergence spell. Throughout the series, fairies, witches, Specialists, pixies, selkies, Wizards, Ectoplasm Specters, and Fairy Animals have been seen using convergence.
Times When Used
Seasons
Specials
Movies
World of Winx
Season 2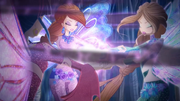 In World of Winx, the Convergence Magic was only used once in "The Girl in the Stars," during a mission on Neverland where Bloom, Flora and Musa manage to grab hold of one another from inside the shadow tornado and, with their hands interlocked, the three fairies combine their magic to escape. The strong magical wave not one destroys the shadow tornado, but also completely disposes of the shadow cages, freeing the Pirates inside.
List of Named Convergences
Gallery
Main article: Convergence/Gallery
Trivia
Community content is available under
CC-BY-SA
unless otherwise noted.