Winx Club Forever

This article has been completed. Only edit it if you think it can be improved.
Dance Dance Revolution: Winx Club is a game based on Season 3. It was developed and published by Konami and released in the first quarter of 2009 in European countries for the Wii.
Overview
The game focuses on the Winx Club series, featuring songs and characters from the show as well as Japanese songs unrelated to the series.
Description
"

Dance Dance Revolution: Winx Club for Wii combines the fast-placed movement-based gameplay of Konami's DDR Hottest Party with characters, settings and songs from the Winx Club universe. Using a special dance mat controller, players are invited to match a series of onscreen arrows with the corresponding foot movements, while the Wii controllers are used to match necessary arm movements. Thus, as the various Winx-related tracks play, characters from the show appear on screen.

"
Song List
mint candy☆citrus drop / U.KI
αρχη / Dormir
Dimanche / Orange Lounge
777 / EeL
0/1 ANGEL / v.c.o. Featuring Alt:A.I.TECHNO
New Magical Definition / Oh,la,la!
MY GIFTS / D-crew
BIG-BANG STARS / co-ping
CODENAME : APRIL / TOMOSUKE
High School Love / DJ YOSHITAKA feat.DWP
The cadet of Magic / Dormir [Mahou no Tamago from Pop'n 14 CS]
Unbound Mind / D-crew
This is Love / D-crew
I'm Screaming LOVE / Creative Life
HEALEN / positive-MA
DOUBLE TORNARD / evo-X
TRUE LOVE (Clubstar's True Club Mix) / jun feat. Schanita
SUPER HERO / DJ YOSHITAKA feat.Michaela Thurlow
INTO YOUR HEART (Ruffage remix) / NAOKI feat.YASMINE
REACH THE SKY (Orbit1 remix) / TAYA
Trivia
It uses the same engine as Dance Dance Revolution Hottest Party 2.
It is one of the first DDR games released in Europe to use the Dance Dance Revolution name rather than Dancing Stage as was done in the past, a change that was indicated in the original announcement for a European arcade release of Dance Dance Revolution X.
Gallery
Trailer
English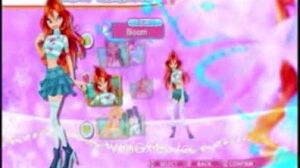 Community content is available under
CC-BY-SA
unless otherwise noted.