Kind of, but we have better style.

This Article is an A! It has all the sections and images in place, making it complete.
Delores is a witch introduced in Season 6. She had hoped to enroll into Cloud Tower but was rejected by the Trix.
Appearance
Delores has a pale complexion with facial features similar to Bloom, albeit the more lighter, orange hair color and dark brown eyes. She has purple lips and her hair is styled with long, side-swept bangs and extends past her knees.
She wears a dark gray, short sleeved, short leather jacket; the jacket's shoulders have a white stud on them and at the end of it, a belt buckle. Underneath the jacket, she wears a light blue and sky blue short sleeved shirt. She wears blue and pink forearm sleeves, mauve colored, ripped skinny pants that have thin pink strings tied in an X-shape, and white and sky blue high-top sneakers with pink laces.
Personality
Delores is frightful of things that may harm her, such as abrupt cracks in the floor, but she is confident when introducing herself.
Series
Season 6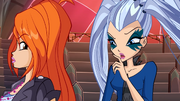 In "Broken Dreams," she is part of the group of witches who hope to attend Cloud Tower after demonstrating their abilities to the Trix. As the Trix reject Dana and Jazmin, a crack in the floor opens up and swallows them, which frightens Delores as she almost falls in with them.
After Lazuli's demonstration was dismissed, Delores is next. She looks at Lazuli with disapproval as she confidently walks forward and proceeds to introduce herself but is quickly interrupted by the Trix. Delores is confused as to why Icy is now observing her closely. When the Trix realize that she resembles Bloom, she is automatically rejected and expelled from the school through the floor.
Magical Abilities
Like all witches, her powers are derived from the negative aspects of magic and she is able to fly. Delores may know some basic, first-level spells that all witches can use, such as telekinesis, transmuting objects, and fixing minor messes.
Trivia
Community content is available under
CC-BY-SA
unless otherwise noted.