Wow, did I just say that?

This article is a B. It is missing three or fewer sections, or some images need to be added. Please do what you can to help!
Diaspro's Father is the father of Diaspro and husband of Diaspro's Mother.
Appearance
Diaspro's Father is a man with a light skin tone, brown hair and a fairly average build. From top to bottom, his attire consists of a pointed crown that rests close to the crown of his head just behind his bangs, an orange coat with short sleeves, gold accents and a red-and-gold collar that connects to a large red cape all worn over a periwinkle long-sleeved shirt with a large red bottom hem and red diamond pattern on his stomach, blue-grey pants and brown knee-high boots.
Personality
Not much is known about his personality in both the animated and comic series, as he is never given any speaking lines and only appears briefly in both canons. All that can be gathered from his brief appearances is that he cares for Diaspro to the point of despairing over her kidnapping in "Battle for Planet Eraklyon." He is also more than likely good friends with King Erendor and Queen Samara.
Series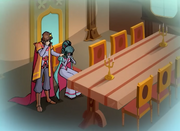 Season 2
Diaspro's Father makes his first appearance in "Battle for Planet Eraklyon," where a shot of him and his wife distressing over Diaspro's kidnapping is shown as King Erendor briefs Sky and his friends, Brandon, Bloom and Flora, on how the Princess of Gems had been taken for ransom by Yoshinoya.
Comics
Trivia
Since Diaspro assumes the role of Queen of Gems later into the Winx Comics, it is safe to assume that her father ascended to the role of King Father.
Unlike his wife, Diaspro's Father does not get any speaking roles in the comics.
Community content is available under
CC-BY-SA
unless otherwise noted.