Wow, did I just say that?

This article is a B. It is missing three or fewer sections, or some images need to be added. Please do what you can to help!
Princess Diaspro is the former arranged fiancée of Sky.
Appearance
Personality
Pre-Series
At some point in her life, Diaspro was betrothed to Prince Sky, mostly for political reasons. To prepare herself to become the future Queen of Eraklyon, Diaspro practiced and perfected all manners of etiquette and protocol. Diaspro herself was overjoyed to be promised to the man she loved but failed to see that Sky did not feel the same as she did.
Series
Seasons
Specials
Revenge of the Trix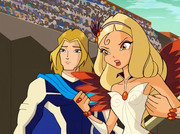 After making her arrival to Red Fountain, Diaspro drags Sky to a more private room to inquire him about what he had just told her: that he loves someone else. Upon hearing this, Diaspro's eyes shine with fury, hoping that he had just told a joke, only to be told by Sky that he was serious. She tries to sway him back to her but he does not relent and stands by his words.
Diaspro is then confronted by Bloom who falsely accuses her of something she had no involvement in. Bloom then assaults her, causing them to engage in a heated battle that Diaspro ultimately loses, which leads Diaspro to latch onto Sky for comfort when he rushes over to her in confusion. It is then that Diaspro angrily reveals that Sky is her fiancé, devastating Bloom in the process. Unfortunately, Diaspro also sees that Sky cares more about Bloom than her and is greatly upset by the fact that Bloom was the one he fell in love with.
Comics
Magical Abilities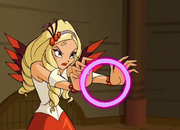 As the Fairy of Gemlight or Gemstones, Diaspro has gem-based powers granting her ability to control gems and precious jewels. Diaspro can create shields(durable enough to withstand a blast from an enraged Daphne), laser/energy shooting gems, and rings that can restrain her opponent. She can also encase an enemy in a transparent crystal formation. Her magic is shown to be scarlet red/orange and deep pink in color. She also knows basic magic skills such as telekinesis, transmutation, summoning objects, and fixing minor messes.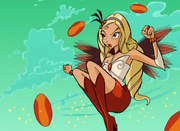 Through her knowledge of gems and jewelry, Diaspro knows how to bring out anyone's inner beauty. She prefers and knows gems more than anyone else.
Uses of Magic
Transformation Sequences
Trivia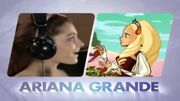 Diaspro's name is the Italian word for jasper, a widely-used gemstone that often comes in red, yellow, and brown.

Her name is also similar to the gemstone diaspore, which gets its own name from the Greek word διασπορά (diaspeírō), meaning "to sow" or "to scatter."
Her name also sounds like the word "despair", which is also the basis of the word "desperate", fitting her intentions to have Sky all for herself and to make Bloom's life miserable.

In the 4Kids dub, her powers are more specifically stated as quartz: the second most abundant mineral on Earth and the type of stone a jasper happens to be.

Diaspro's realm in the same dub, Isis, is named after the Egyptian goddess of magic and wisdom.

In the specials, the scene where Bloom learns that Sky is Diaspro's boyfriend is very different from the original.

Rather than finding out through interrupting a video message Sky left for Diaspro by accidentally bumping into her, Bloom finds Diaspro being affectionate with Sky in a private room as she tries to learn who had stolen his heart from her.
Community content is available under
CC-BY-SA
unless otherwise noted.