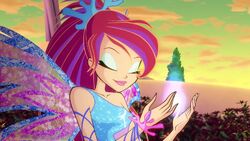 This article is about the source of Bloom's power. You may be looking for the comic issue.
The Dragon's Flame (also known as the Dragon Flame, Dragon Fire, Sacred Fire, or Flame of Life) is a magical power introduced in Season 1.
Overview
The Dragon's Flame is a spark of the Great Dragon's power, which created the entire Magic Dimension[1]. The Dragon Flame is able to bring balance to the powers of darkness. Opposing forces include that of Darkar, a being of pure darkness who absorbs energy[2], and the Water Stars, a neutral force which can extinguish it[3]. It is the source of power for Bloom, Daphne, Valtor, Oritel (via his sword), and briefly for the Trix and the Winx.
Winx Club
Pre-Series
The Dragon's Flame has been passed down through generations of members of the royal family of Domino since the disappearance of the Great Dragon, and was used by the Nine Nymphs of Magix, nine all-powerful fairies who controlled the Fate of the Magic Dimension, the last and most powerful Nymph being Daphne[4], and now the present guardian being Bloom.
Lord Darkar tried to obtain the Ultimate Power and for that sent the Ancestral Witches to claim the Dragon's Flame from its Guardian to use it to obtain the Ultimate Power[5]. The Ancestral Witches and their "son" Valtor destroyed Domino in the process, but were defeated by the Company of Light when King Oritel and Queen Marion of Domino imprisoned Valtor in the Omega Dimension[6] and the Ancestral Witches in their own birthplace, the Realm of Obsidian[7] in the final battle opposing the two sides. King Oritel however, was grabbed by the Ancestresses, and Queen Marion entered the King's Sword to stay with her husband and a wave of dark energy was released from Obsidian which caused all the inhabitants of Domino to become encased in stone in Obsidian and froze all of Domino[7].
Princess Daphne managed to save her little sister Bloom and the Dragon's Flame from falling into the hands of evil by sending her to Earth[8], the cost of it being that she was herself turned into a disembodied spirit by the witches and became a ghost bound to the depths Lake Roccaluce.
For fifteen years (Bloom was apparently one year old when Domino was destroyed), the entire Magic Dimension thought that the Dragon's Flame had been extinguished in Domino's destruction, except the Trix (the descendants of the Ancestral Witches) who, using the power of the Vacuums, felt that the Dragon's Flame was out there, still burning and went after the Ring of Solaria since it had been created using the Dragon's Flame.
Seasons
Community content is available under
CC-BY-SA
unless otherwise noted.