Winx Club Forever

This article has been completed. Only edit it if you think it can be improved.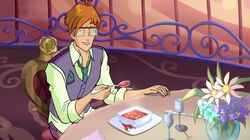 Dragon Fire Soup
is a food item introduced in
Season 5
.
Appearance
Dragon Fire Soup is a red soup. In the soup are several blobs of orange and yellow. The soup is garnished with two red peppers with green hulls.
Series
Season 5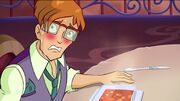 In "A Perfect Date," Timmy, in a rush to order his food on his date with Tecna, orders the first thing on the menu, which happens to be the Dragon Fire Soup, extra spicy. Once the couple's food arrives at their table, Timmy begins to eat the soup and immediately denotes its spice level. Timmy's cheeks begin to redden. Timmy quickly begins to perspire and pant, and when the waiter arrives to ask him if he is enjoying his meal, Timmy begins to blather about how spicy the soup is, much to the delight of the waiter, thinking he had pleased Timmy with the food. Timmy clutches his chest and Tecna hand him a glass of water. As he has not yet had enough water to dilute the spice, Timmy asks for more water. Panting wildly, still not satisfied, he asks for more water, prompting Tecna to throw the vase full of flower's water onto him, causing them both to laugh as Timmy's pain fades.
Trivia
Community content is available under
CC-BY-SA
unless otherwise noted.