Wow, did I just say that?

This article is a B. It is missing three or fewer sections, or some images need to be added. Please do what you can to help!
Emma is a fairy who attends Alfea.
Appearance
Emma has fair skin, pink lips, and pale grey eyes. She has orange hair in twin tails, and has square cut bangs. She wears a pale purple top with round sleeves, red outlines and a yellow and orange belt. She wears pale red pants and pale purple sandals.
Personality
Not much is known about her personality as she is mostly a background character, but she had been shown to be a fan of the Winx.
Series
Seasons
In "The Mirror of Truth," she and her friends are seen in Alfea's corridor and Griselda tells them not to block it.
In "The Company of the Light," she is seen walking in Alfea's courtyard talking to Venus. She is later seen at Faragonda's assembly.
In "The Pixies' Charge," she appears in Faragonda's office as she briefs the Alfea fairies and the Winx on Valtor's attack on the Fortress of Light. Later, she is at the assembly for the pixies and Kiko to celebrate their finding of Valtor still being in possession of the Agador Box.
In "The Wizards' Challenge," she is seen with her classmates looking at the Mark of Valtor in the sky.
In "Witches' Revelation," she is seen with her classmates in Bloom's nightmare. They begin to look down at the Mark of Valtor on the floor.
In "Wizard's Anger," at Alfea's entrance, she, her classmates, staff, and the Specialists cheer the Winx on for their efforts against Valtor.
In "A New Beginning," she and her classmates are seen celebrating the defeat of Valtor.
Movies
The Secret of the Lost Kingdom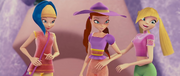 She and her classmates are seen during the Day of the Gift ceremony. They admire the Specialists as they walk in.
Magical Abilities
Emma may know some basic, first-level spells that all fairies can use, such as telekinesis, transmuting objects, and fixing minor messes.
Gallery