Eraklyon is a planet within the Magic Dimension that holds a notably significant monarchy compared to the rest that can be found within the Magic Dimension.
Overview
Sky is the current king due to his father, King Erendor, who voluntarily left the throne and gave it to him. Sky's mother Queen Samara is still the current queen until Bloom and Sky get married.
Series
Movies
Magical Adventure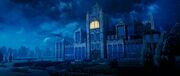 In the second movie, the Winx and Specialists go to Havram to find the sapling/pollen so as to restore the Good Magic of the Magic Dimension after the Trix made the dark side of the Tree of Life take over its good side. Only that sapling/pollen could restore the Good magic in the Universe. They had to go by a flying boat since due to the dark magic present in the city nothing works normally there, not even technology, and they were attacked by clones of themselves on their boat which were created from that dark magic.
On arriving there, the Winx and the Specialists had to fight the Trix and the Ancestresses without their powers till Oritel arrived to help them. Bloom and Sky found the sapling, which was hit by an attack of Icy, in turn causing it to restore all the good magic. The Winx defeat and destroy the Ancestresses there, and by the end of the movie Havram becomes a wonderful city full of life again due to the good magic returning again to the Magical Universe.
Locations
| | |
| --- | --- |
| Winx Club | Comics |
Inhabitants
Trivia
Eraklyon is derived from the Ancient Greek word "Herakleion," meaning "Of Herakles." Herakles is the Greek counterpart to the Roman hero Hercules.

The origins of the realm's name fits in well to the warrior theme it seems to maintain as Sky, its crown prince, acts as the main hero out of his squad of Specialists.

Following the canon established in the comics, it is made clear that multiple kingdoms do exist on the planet of Eraklyon due to the existence of Karunda and the kingdom that Diaspro reigns over as queen. The Kingdom of Eraklyon is just recognized as the primary one.
Eraklyon is one of two planets that has kept its original name in the 4Kids dub; the other being Solaria.
Eraklyon seems to have more land mass than water.
Despite having been formally crowned in The Secret of the Lost Kingdom, Sky is reverted back to being a crown prince from Season 5 onwards. Likewise, Erendor acts as king again rather than being King Father, as he was when he abdicated the throne to his son.
Realms

Dimensions

Schools

Locations
Community content is available under
CC-BY-SA
unless otherwise noted.