Winx Club Forever

This article has been completed. Only edit it if you think it can be improved.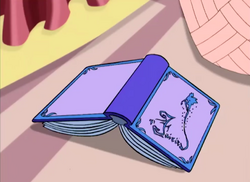 Fairies: Myth or Reality?
is a book introduced in
Season 1
and is owned by
Bloom
.
Overview
During her childhood and mid-teen years, Bloom's fascination and interest in fairies were shaped by this particular book. As such, she interpreted the Magic Dimension to be what was portrayed in this book. Which was proven to be false (much to her disappointment).
Stella had also stated that the book is "much nicer" in comparison to the real world of magic.
Appearance
The book initially started out as a sky-blue, blue and lilac colored book. The sky blue color outlines the edges of the book, the title text, the fairy and sparkles, and decorative leaves on the corners. The blue is the color of book's spine. Its pages are white. This design is carried over into the specials.
However, in its last appearance, the book's colors were changed. The edges, corners, the title text, the fairy and sparkles were changed to a yellow color. The rest were a light green color.
Series
Season 1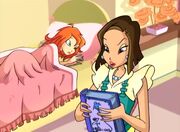 In "An Unexpected Event," Vanessa had just woken up Bloom who then returns to bed because she was tired. While she lectures her for staying up so late Vanessa notices the book on the floor. She picks it up and asks Bloom exasperatingly if she will ever get tired of "such silly things", to which Bloom takes offense.
Later, the book is looked at by Stella when Bloom asks if the world of magic was just like it. Stella replies that it is close although it is much nicer than reality.
The book is seen for the last time in "The Font of Dragon Fire." Bloom is seen rereading it but does not feel the same excitement as she did before. Mainly because of her disappointment in herself, learning about Sky's real identity, and feeling out of place.
Specials
The book returns in this first special as it once again, shows Bloom's fascination for fairies and magic. Vanessa wakes Bloom up, who then returns back to bed. Vanessa asks why she was up so late and when Bloom answers that she was reading, Vanessa sees the book and calls it "silly", to which Bloom strongly denies it.
Bloom is rereading the book but her fascination and excitement for the topic is not what it used to be. This stemming from feeling out of place and learning of Sky's relations to Diaspro.
Trivia
Gallery
Community content is available under
CC-BY-SA
unless otherwise noted.