Wow, did I just say that?

This article is a B. It is missing three or fewer sections, or some images need to be added. Please do what you can to help!
Flitter is a Techsquirrel and is Tecna's bonded Fairy Animal.
Appearance
Real World
He is a Techsquirrel with brown eyes, blue nose, lime ears and purple coat. The coat on his belly is light green and the one on his legs is violet. The fur on his ears is on a gradient from blue to white. There are electronic circuit-like details on his head and tail. He wears a pair of small, golden googles on her head.
MiniWorld
In this form, Flitter becomes bigger. he looks like a mix of horse, flying squirrel and monkey. His fur gets longer. The loose skin spread between the arms and legs are now visible; it is translucent and stays in a lime shade. There are lime locks of hair on his ear and light violet lock of hair on his tail. He now has a big yellow mane around his neck and he wears a gold neckwear decorated with purple gems. There are lime gems on his forehead. On his arms and legs are gold armwears and footwears. There is a magenta saddle with gold trim on his back.
Personality
This section lacks information. Please help us by expanding it.
Pre-Series
This section lacks information. Please help us by expanding it.
Series
Season 7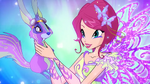 Flitter made his debut in "A Fairy Animal for Tecna". The whole Power Core of Zenith was run by Techsquirrels and Flitter was one of them. Even if one is missing, the whole order of Zenith will go haywire. After he bonds with Tecna, they bring the balance back in Zenith. Later, Flitter uses her powers to fix the Technomagic Globes.
This section lacks information. Please help us by expanding it.
Magical Abilities
As a Techsquirrel, Flitter can create a trail of technomagic when flying speedily. He uses that trail to fix broken things, such as the magical globe. He also uses them to aid Tecna in using her Virtual Flow spell that stabilizes the Energy Core.
Uses of Magic
Etymology
"Flitter" means to "move quickly in an apparently random or purposeless manner."
Trivia
He and Amarok are the only fairy animals who bond with their fairy in their own realms which both Zenith and Linphea respectively.
On the official website, Flitter is revealed to a female[1] but in the English dub, Flitter has a male voice and is mentioned as male.

In the Italian dub, Flitter is a female.
References