Winx Club Forever

This article has been completed. Only edit it if you think it can be improved.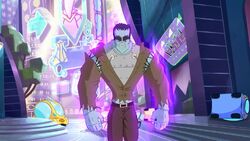 Frankenstein's Monster
is one of the legendary creatures released by
Selina
.
History
According to Selina, Frankenstein's Monster was brought to life by lightning and madness. Its body was tightly put together with knots and bolts. It was mentioned in the Legendarium:
"

Technology in its earliest form, brought about a man-made monster, scrapped together with knots and bolts.

"
Appearance
Frankenstein's monster has short, black hair, thick eyebrows and green skin. He wears a brown coat and light brown shirt inside. There are also ripped parts of his clothes that are tied together with stitches. He wears a black belt, reddish pants and black shoes.
Series
Season 6
In "A Monster Crush", Frankenstein's Monster was brought to life by Selina in Zenith to cause chaos and destroy the Winx. As they fight, Tecna, using Zenith's electrical energy, attacks it and makes it fall madly in love with her. When it tightly hugged her, Selina put it, along with Tecna, into the Legendarium World. She also put Stormy in there as the Bride of Frankenstein to make sure that Tecna stays there too long and get stuck in it forever. When the Winx enter the Legendarium World and fought Stormy, Tecna empowers Stormy to make her electricity stronger and Frankenstein's Monster fell in love with Stormy. The Winx, then, escaped and so did Stormy.
Magical Abilities
Frankenstein's Monster was brought to life with electricity, so it also empowers the monster. It is durable from any physical and magical attacks. It can highly jump too. It has super strength that enables it to carry anything heavy, including cars, and destroy anything effortlessly.
Weakness
Its weak point is that when a woman has electricity powers that sees fences and Frank draws. The first case was seeing Tecna while attacking with the Winx and prevents Timmy to the rescue, and once they have wanted to conquer. Stormy and Bride of Frankenstein is the main lure of this beast.
Trivia
Frankenstein's Monster is the character of the novel Frankenstein, or the Modern Prometheus written in 1818 by Mary Shelley. Frankenstein's Monster has since then become a very popular character.
This is the second legendary creature to appear in 2D and 3D.
He is the first legendary creature which is not defeated by the Winx.
It has the same behavior as Knut in the events of the third season and practically almost fall in love with a Winx.
He is voiced by Dee Bradley Baker.
Gallery
Community content is available under
CC-BY-SA
unless otherwise noted.