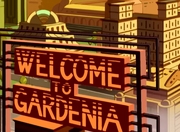 Gardenia is the hometown of Bloom, Roxy, Mitzi, Macy, Mike, Vanessa, Klaus and Morgana.
In the first three seasons of Winx Club, Gardenia made few appearances but became the main setting in Season 4 as the Winx went there to protect Roxy, the last fairy on Earth. Gardenia becomes a minor setting again in the fifth, sixth, seventh, and eighth seasons. Gardenia is also a major setting for both seasons World of Winx.

Overview
Gardenia is a town located on the coast of the United States on planet Earth.
An industrial or port area in Gardenia with a number of warehouses was seen in Season 4[1][2][3], and the residential areas of Gardenia are separated from the town center by a bay or river mouth across which there is a bridge which connects the two parts of the town[4][5].
Locations
Winx Club

Mike's and Vanessa's house
Mitzi's house
Klaus's, Morgana's and Roxy's house
Vanessa's Flower Shop
Silent Villa
Gardenia High School (mentioned only)
Gardenia's Shopping Center
Gardenia's Train Station
Gardenia's bridge
Jason Queen's office
Gardenia Beach

Comics

Amaranth Café

Gardenia Marine Park

World of Winx
Inhabitants
Other Inhabitants
Trivia
References