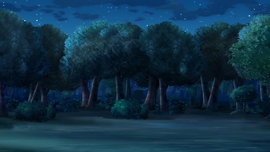 Gardenia Park is a place on Planet Earth and was introduced in Season 1. It is significant in that this is where Bloom met Stella and found out she has magic powers.
Overview
The park appears to be fairly large and spacious. There are trees and grass, and by sixth season the trees have increased in numbers but plenty of flat terrain remain.
There are some benches, scrubs, and flowers. Pathways are denoted by light brown paths decorated with black railings around the park. A entrance gate is present as seen in the second and fourth seasons.
Series
Seasons
Specials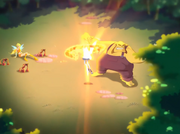 In "Winx Club: The Fate of Bloom," after unwillingly receiving her bike, Bloom and Kiko head to the park. While Bloom relaxes under a tree with an apple, Kiko, who wandered off for bit, returns to her in a panic. Kiko leads her to an area in the park where they both witness a battle between a fairy, Stella, an ogre, Knut and his ghouls.
The two could not believe their eyes and when Knut knocks Stella off her feet and take her scepter, Bloom steps in. Annoyed by her interference, Knut orders his ghouls to attack her. In response to flight or fight, Bloom conjures up her first shield that dispatches the attacking ghouls, much to her astonishment. Knut, now really irritated, takes matters into his own hands and grabs ahold of Bloom, swinging her around. This time, Bloom releases a powerful burst of energy that stuns Knut his minions.
Stella is then able to reclaim her stolen scepter and checks on Bloom. When she sees that Bloom is alright, Knut realizes that this is losing battle and teleports away.
Glad that they are gone, Stella faints due to exhaustion. Concerned for her well-being, Bloom and Kiko take her back home.
Comics
Season 1
Community content is available under
CC-BY-SA
unless otherwise noted.