Winx Club Forever

This article has been completed. Only edit it if you think it can be improved.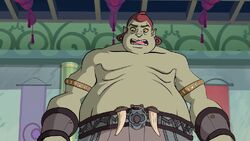 This article is about the Legendarium character. You may be looking for the Trog.
Gargantua
is one of the legendary creatures released by
Selina
.
History
According to Daphne, his only goal is to eat everything that surrounds him.
Appearance
He is tall and obese with a light green body, orange hair, small pointy eras, and black shorts with dark khaki. And has gold bracelets on his upper arms. 
Series
Season 6
In "Stella's Big Party," Selina unleashed the Gargantua to create a chaos in the banquet. But later it was defeated by the Winx.
Magical Abilities
Gargantua is a giant that seems to be almost indestructible. He cannot be hurt by any direct attack from the outside.
Weakness
He can be destroyed by any attack from the inside of his body.
Trivia
The giant Gargantua is a character from, Gargantua and Pantagruel, a set of five novels written in the sixteenth century by François Rabelais in French which tells the story of two giants: a father, Gargantua and his son Pantagruel, and their adventures, written in a satirical, entertaining and extravagant. Both are two great giants and wolverines.
He, the Minotaur, the Snow Queen, the Bride of Frankenstein, and Ariadne are the only legendary creatures whose legends were not read.
Gallery
Community content is available under
CC-BY-SA
unless otherwise noted.