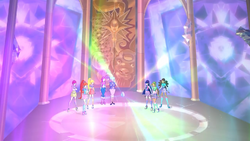 The
Hall of Memories
, formerly known as the
Hall of Fairy Animals
, is a place seen in
Season 7
.
Overview
The Hall of Memories is a room in the Alfea Underfloors where a natural source of Wild Magic and the Stone of Memories were once kept. Previously, an incantation was required to open its doors.
Pre-Series
Known as the "Hall of Fairy Animals," this hall housed a large natural source of Wild Magic. When she was a student at Alfea, Kalshara entered the hall and absorbed the Wild Magic, turning the walls into glass and turning herself into a shapeshifting, cat-like creature.
Series
Season 7
Community content is available under
CC-BY-SA
unless otherwise noted.