Iginio Straffi (born May 30, 1965 in Gualdo (MC), Italy) is the founder and CEO of Rainbow S.r.l., as well as creator of its most famous product, the Winx Club series, and later the Huntik, PopPixie, and World of Winx series.
Background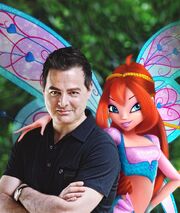 Born and raised in the Marche region of Italy, he started professional work in the field of comic book drawing for Italian publishers Comics Art and later Sergio Bonelli Editore, where he mostly worked on the Nick Raider series. His work was also occasionally featured in the Métal Hurlant and Comic Art magazines. At age 27, he moved to France to work on storyboarding production and directed several animated TV series and feature films.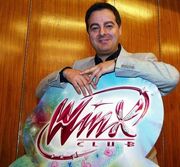 He moved back to his native Marche in 1995, when he founded the Rainbow animation studio, initially providing services for other studios, but eventually producing its first original product the Tommy and Oscar animated CD (1996) and later TV series (1999). His most successful creation, Winx Club, debuted in 2004 and became a worldwide success, now broadcast in over 130 countries, including Europe, the United States and most of Asia. Aside from its headquarters near Loreto, Rainbow S.r.l. (S.p.A) now has branch offices in Rome and Singapore.
Other Rainbow S.r.l. (S.p.A) creations include Prezzy (inspired by the Italian Gardaland theme park mascot) and Monster Allergy (also a successful Disney comic book), as well as co-production of Huntik. Now, Iginio and Rainbow S.r.l. (S.p.A) have created "Rainbow Magic Land", which opened in Spring 2011, which will include a full-sized "Alfea" school (mentioned in Winx Club). Huntik: Secrets & Seekers is one of Straffi's most famous and well-known series, and has been broadcast in many countries worldwide. Most recently he directed and produced Gladiators of Rome, which opened in Italy, October 2012. It received instant success, with some mixed reviews, and was later released across Europe and the Americas.
Creations & Works
Iginio Straffi's Works

| | | |
| --- | --- | --- |
| Tommy and Oscar | Creator/Director | 2000 |
| Prezzy | Director | 2002-2004 |
| Winx Club | Creator/Director | 2004-present |
| Monster Allergy | Director | 2006-2009 |
| Huntik: Secrets & Seekers | Creator/Director | 2009-2011 |
| PopPixie | Creator/Director | 2010-2011 |
| Gladiators of Rome | Director/Writer/Producer | 2012 |
| Regal Academy | Creator/Director | 2016-present |
| Maggie and Bianca Fashion Friends | Creator/Director | 2016-present |
| World of Winx | Creator/Director | 2016-2017 |
Trivia
In an Interview, it was mentioned that Iginio's favorite Winx is Flora.
External links
Community content is available under
CC-BY-SA
unless otherwise noted.