Awesome!

This Comics Article is Awesome! The comic article you are reading is complete. Thanks to the unity of your magical powers, all sections are now present!
Witch Love is the twenty-eighth issue of the Winx Club Comic Series.
Synopsis
The Trix continue to fight amongst themselves over who should be the one to go out with Darko, their childhood friend, though, this time, it seems like Icy has a plan in mind to make Darko hers. Meanwhile, Darko's father comes up with a plan to have Darko charm one of the many princesses in Magix long enough for him to gain control like he did back in the Ice Kingdom. Things seem to get worse for Darko, as he finds himself being used not only by his father, but Icy too, and when Mazakis finds this out, he plans to have Icy and her sisters taken out. Darko scrambles to save his closest childhood friend but not without some help from some unexpected allies.
Plot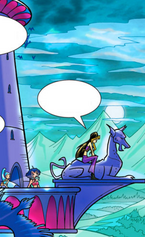 Stormy and Icy find Darcy sitting atop one of the gargoyles at the top of Cloud Tower and tell her that they have been waiting for her in their dorm in order to go over the lesson from their recent class, but Darcy does not want to talk to them. She tells them to leave her alone but Stormy starts to tease Darcy by suspecting that she may be meditating in order to distract herself from thinking about Darko. Darcy lashes out at Storm for her to mind her own business until Icy lashes out at the thought of Darcy possibly having feelings for Darko by claiming that he already belongs to her because he liked her the best when they played as kids. However, Darcy and Stormy are not buying it and Darcy tells Icy that people change in time. Icy highly doubts that he still would not like her and decides to leave her sisters to bicker amongst themselves as they tell Icy to get the thought of keeping Darko to herself out of her head. Little do Darcy and Stormy know is that Icy has an ace up her sleeve: the security tapes that show Darko slipping the love potion into Bloom's drink. As she heads back to her dorm, Icy starts to formulate a plan; a plan to blackmail Darko into being hers by using the security tapes.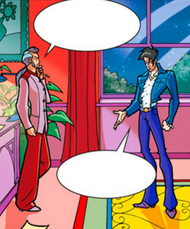 Meanwhile, in the palace just outside of the city, Mazakis is berating Darko for attracting attention to himself. He also warns Darko that if an investigation opens over his new car being destroyed and over almost killing Bloom, all eyes in Magix will be on them. Darko confronts his father, telling him that he knows full well that he bribed the officers with huge sums of money so that an investigation would never be opened up over it, and Mazakis begins to suspect Darko of coming to him just to borrow money. He tells him to come out with it and Darko hesitantly admits to needing a new car, which causes Mazakis to slam his desk in rage as he screams at Darko for not knowing how to act like an adult. He loudly asks if his son had not learned anything from what he had taught him, but Darko defends himself by telling his father that he has never taught him anything because he was always preoccupied with his business; that he never having any time to spare for him, his own son. Mazakis lashes out at Darko again, claiming that Darko has no idea how hard it is keeping the large amount of power that he has and insists that doing all of that leaves him with no time for anybody else. Quickly calming himself down, Mazakis tells Darko to be grateful for his business since the wealth it has generated allows him to live like a prince. He then urges for Darko to be careful next time because he believes that doing something as risky as he did over a simple café waitress is not worth it.
Darko interrupts his father to tell him that Bloom is not some simple waitress, but a very prominent princess, and he explains that there are many princesses that attend the magical colleges in Magix. Mazakis, completely caught off guard by this new information, asks his son for confirmation, to which Darko responds by telling him that many princesses come from every dimension to attend the magic colleges in Magix. Now that this has his interests, Mazakis asks his son if he has his eye on any of them, but Darko denies this by claiming that all of those princesses do not really work for him. Mazakis then explains to Darko that if he were to marry a princess, he would surely be guaranteed a high placement in that king's court. He would be able to regain his wealth and better protect him and his family from his enemies. Darko asks what his father needs him to do but Mazakis does not have enough information to go on yet and sends Darko out to get prepared. As Darko heads back to his room, his phone starts vibrating. He picks it up only to find Icy on the other end asking how everything is with him. He tells her that things are not going so well and that he does not have time to talk with her until Icy claims that she has something very important to tell him. She then tells him to meet her out by the lake tomorrow afternoon and ends the call by threatening him, claiming that if he does not show up, he will end up in prison like he deserves. Before Darko can figure out what she means by this, Icy hangs up on him. She then giggles at the thought of being able to talk to Darko all alone.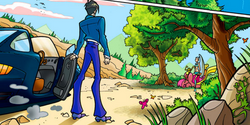 Tomorrow afternoon rolls around and Darko meets up with Icy by the lake as instructed. There, he approaches Icy, who is sitting in her motorcycle under a tree, and asks her what she wants with him. Icy, however, expected him to at least greet her first, but Darko simply tells her not to waste his time. That is until Icy tells him that he will be wasting all of his time with her from now on, proclaiming him as her boyfriend. Darko laughs at this and tells her that he has to agree to this first before they can go out, but Icy claims that he will have to be her boyfriend whether he wants to or not, otherwise, he will end up in jail like she said. Darko asks her what she means by him having to be put in jail and Icy reveals that someone saw him slip the love potion in Bloom's drink in order to force her out of the café. She then pulls out the security tapes as she explains that the security cameras caught him in the act, though, the tape she is holding is a copy. She claims to have hidden the original tapes somewhere safé, but Darko cannot believe that Icy is trying to blackmail him into dating her, and reminds her that she was the one who gave him the love potion in the first place. Icy admits to this but since it is not on the tapes, it would not matter either way. She then tells Darko that she will not tell anyone of the tapes so long as he treats her right, which is when Darko asks what she needs him to do. Icy explains to Darko that she needs a competent leader as her boyfriend; someone who has authority over others and can use that authority to have people serve her as she believes she deserves. She claims that Darko suits all of her needs just fine and that once she no longer needs him, she will give him the tapes. Darko eventually gives in to Icy's demands as she fawns over how precocious he is, even when he has no choice in the matter. She then orders Darko to go to Magix City with her to show everyone where they stand.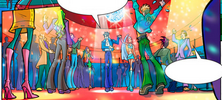 And so, the two of them head for Magix City's Central Nightclub where, once inside, Darko announces for his friends to make a toast to Icy as his queen. Everyone cheers over the news as Darko orders one of his friends to get Icy a drink. His friend quickly returns from the counter and hands Icy a drink, which she gladly accepts. Icy then raises her glass, proclaiming a toast to Darko and their relationship. As everyone cheers for Darko and Icy being officially a couple, Darcy and Stormy watch from another part of the nightclub and cannot believe that Darko picked Icy. Stormy teases Darcy once again by claiming that Darko would be "less of an idiot" if he chose her but Darcy quickly becomes fed up by the very sight of him being with Icy and decides to head back to Cloud Tower, claiming that there is no point to her staying. Stormy agrees and decides to follow her out.
Later that night, once everyone is done hanging out, Darko lets his friends know that he will be dropping Icy off before heading home. The two get into Darko's new car, drive off and eventually reach Cloud Tower.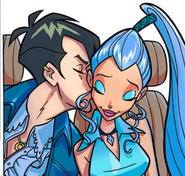 Darko parks just outside the school gates and lets Icy know that they have arrived. Icy, however, expects him to kiss her goodnight, so Darko does so reluctantly, completely unaware of how much Icy is genuinely enjoying it.
Eventually Darko makes it back to his father's palace just outside of town. When he makes it to the front gates, he asks one of the guards if his father is asleep. Unfortunately for him, the guard tells him that he does not think so. Once inside, Darko makes his way to his room until Mazakis opens the door to his office and catches him, claiming that he has to talk to him.
Mazakis quickly goes through a few documents as he tells Darko that he had found some very interesting prospects after gathering all of the necessary information. He then suggests to Darko to possibly go after Princess Stella of Solaria, due to the kingdom being very powerful and prosperous, but before his is able to go through another one of the documents, Darko tells his father that there is a slight problem. Mazakis asks him what he means by this and Darko claims that he cannot be with other girls because he already has a girlfriend. This causes Mazakis to slam all of the documents onto his desk in a blind rage and scream at Darko that he told him to wait before getting a legitimate girlfriend. He then asks Darko over how he is going to be able to court a princess if he is always seen with other girls and demands to know if he wants to ruin everything before it even begins. He ends his rant by claiming that he is the one who will decide who Darko ultimately marries and then demands that Darko break up with whoever he is with in order for his scheme to still work. Darko, however, claims that he cannot break up with her because of a small problem. Mazakis scoffs at the idea of his son genuinely being in love with this woman until Darko tells him that this new girlfriend of his has him wrapped around her fingers after seeing him "do something stupid a while back," and further explains that if he were to dump her now, she would just turn him into the police. This catches Mazakis off guard as Darko continues, claiming that this girl is very determined and difficult to convince; all before he promptly apologizes. Mazakis is appalled by how his son acts like an idiot by letting a woman trick him so easily, and then asks Darko who this girl is. Darko explains that the girl that is got him on the ropes is an old playmate of his named Icy and tells his dad that he would not be able to know what she looks like because he was always so busy with his business. As Mazakis tries to figure out what to do, there is a knock at the door. It is their butler, Berijas, letting Mazakis know that it is now midnight so he needs to take his medicine. Mazakis instructs Darko to go to bed, claiming that he will handle the girl, and takes his medicine. Once Darko is gone, Mazakis orders Berijas to call Kozar and tell him to get his men ready because he will need them for tomorrow.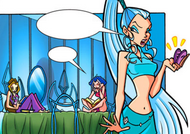 The very next day, at Cloud Tower, Icy is getting ready to go on another date with Darko, much to the disdain of her sisters. She warns them not to follow her this time and leaves their dorm. Once she is gone, Stormy expresses her contempt for Icy as she can just leave to go on dates while they are stuck with nothing to do but study. Darcy, on the other hand, finds it to be more suspicious how Darko immediately does whatever Icy tells him to do without hesitating and she concludes that Darko may not really be in love with Icy. Stormy asks what she could possibly be going on about, to which Darcy tells her that she thinks something more sinister is going on between them.
A short while later, Icy arrives at the lake just outside the White Horse and meets up with Darko. She comments on how serious Darko is being and tries to tease him by asking if he really finds it all that unpleasant being around her until Darko tells her that that is not the case this time. He claims that it is something that his dad had said the night before, so Icy suggests that he tell her all about it and even urges him to sit on the bench as she starts to reminisce about the times they would play as children. She reminds Darko that they used to sit together in their secret place where he would tell her his thoughts and goes on about how their secret place was in Darko's old herbal garden on a big rock beside the fountain. Darko adds that he always had to sit on the jagged side of the rock because he wanted Icy have the better side and confesses to always letting Icy have the better side of the rock to sit on because she always listened to what he had to say and he did not want her to get tired. Icy laughs at their past memories and claims that there was always the chance that she would get tired because once Darko started venting, he would practically never stop and remembers his thoughts on how much he had to say, how much he claimed he would grow, and how he was going to change the world. She then comments on how his many impressions of people were also so amusing to her; especially his impression on the old gatekeeper with short legs.
As she laughs about all of those fond memories, Darko confesses that he always loved to make her laugh when they were kids because she always looked so beautiful when she did. As the two of them laugh about the past, Icy clasps Darko's hand in both of hers and asks him if it would really be impossible for them to be together, even if he was not forced into being with her. Darko snaps his hand away and says that he cannot, which greatly confuses Icy. He explains that he does not want to tie himself down to anyone because it would interfere with his own plans for the future. Icy angrily claims to understand Darko's wish to not be tied down, however, Darko claims that she does not understand because no one has ever understood him. He has a small breakdown by screaming that it all started with his father, who torments him everyday. Quickly recollecting himself, Darko tells Icy that he cannot stay with her and apologizes. Icy catches his apology, much to her surprise, and Darko explains that, while he would like to stay with her a bit longer, he has to tell his father something very important first. He promises to call Icy and warns her to be careful. Before she is able to get him to tell her what he means, Darko walks off.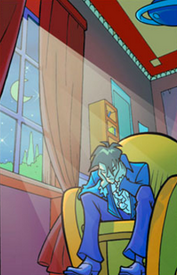 Darko speeds through the streets of Magix on his way home. When he finally makes it back, he parks his car outside, but as he is making his way inside, a car full of his friends drives by. The car parks in front of Darko's, as one of his friends tells him that they have been looking for him since they are having a party at the central nightclub. Despite Darko's protests, his friends keep urging him to come until he has had enough and screams at them over how he does not want to hang out with any of them anymore. Darko then storms into his father's palace and asks Berijas if his father is still in. Berijas apologizes, revealing that Mazakis is not in due to an important meeting and will not return until very late. Darko insists that he will wait for his father to return home and goes into his room to do so.
Darko eventually wakes up, realizing that he must have fallen asleep while waiting for his father, and looks out the window to learn that it is already morning. He also sees his father returning from his meeting and rushes downstairs to talk to him. He tries to tell his father about the situation but Mazakis insists that he has already taken care of Icy, explaining that he called up Kozar and had him eliminate "the problem" after learning that she was sitting by herself in a secluded spot. He also adds that no one will be able to trace this back to them and heads up to his office as Darko starts to panic. He frantically decides to try and stop his father's men from attacking Icy, except for one major problem: he cannot directly ask his father to cancel the order and he has no one to turn to for help.
Meanwhile, at Alfea, break time in the middle of potionology class has just started. As the Winx take this time to try and get some relaxation, Bloom's phone starts to go off. As she picks it up, Stella wakes up, anxious to know if Brandon may be calling, however, it is Madame Greta calling Bloom from the White Horse. She tells Bloom that there is a boy there who is looking for her and assures her that she did not give him her cellphone number. She further explains that the boy's name is Darko and that he claims to have urgent business with her. She then asks if it would be alright for her to put him on the phone, but Bloom is rather confused as to why Darko would be looking for her, while Stella tries to figure out what is going on. Greta tells Bloom that she really does not want anything to do with him, but Darko yells into the phone, telling Bloom that she is the only person he can turn to and explains that Icy is in trouble. He wished to warn Icy but he cannot seem to find her anywhere. He then confesses to believing that Bloom and the Winx are the only ones who can help him find her.
Stella tries to put her ear by Bloom's cellphone in order to figure out from what is going on until Bloom finally tells Stella that Darko was the one calling her and that he needs her help. Stella believes this to be another trap set by Darko, but Bloom thinks that he sounds more sincere and listens further to what he has to say. Darko starts to panic more, telling Bloom that he cannot hear what she is saying so he offers to meet her at Alfea in order to figure out what he needs to do. Bloom insists that she cannot meet him at school and, as Stella tries to get Bloom to refuse Darko's pleas, Bloom tells him that she can meet him at the White Horse after school. Once the call is over, Stella asks Bloom if she is insane for wanting to meet Darko alone, until Bloom admits to being hesitant on seeing Darko by herself. However, she cannot shake the feeling that he sounded sincere over the phone and insists that they should help Icy if she really is in danger. Although, Bloom does not plan on meeting Darko all by herself.
After school, Bloom arrives at the White Horse as promised with the rest of the Winx and the Specialists with her. Darko understands that Bloom would not fully trust him after what happened and begins to explain the situation, starting it off by telling them not to ask how he knows the information he knows. He explains to everyone that Icy is in trouble and that he wants to warn her but has no idea where she is. He then tells Bloom that he asked her and her friends to help because he believes that they are the only ones who can help him find Icy quickly. Bloom is still a bit hesitant and claims that she could just be at Cloud Tower with the rest of the Trix until Sky reveals that a class of Cloud Tower Witches took one of the Specialists' shuttles to the Enclosed Territory for a field trip, and further explains that the witches will be picked up that evening. He insists that the part of the Enclosed Territory they are in is not particularly dangerous and Timmy adds that if the area were dangerous, then a few Specialists would be stationed with the witches in order to protect them. Darko claims that even if the area is not dangerous, the people that the witches may run into might be. He says he cannot explain it all too well but he knows that "these people" may want to kidnap the witches or worse. At that point, Stella asks everyone if they should believe Darko or not. Brandon believes that Darko could be telling the truth with how distraught he is and Flora agrees. Bloom then claims that now that they have decided for themselves, they need to hurry to the Enclosed Territory as they have no time to lose.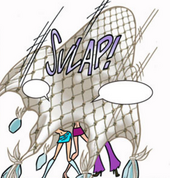 Meanwhile, in a desolate area of the Enclosed Territory, the Trix seem to be heading further into the area to collect herbs and plants. Stormy complains over having to hike while Darcy talks about how the trip by air with the Specialists was rather nice and even claims that one of them was pretty cute. Stormy scoffs at how much of a flirt she is and the two of them notice that Icy is trailing behind them. Stormy points out the fact that Icy does not even have her own basket and yells at her to pick up the pace. Icy, however, tells them that she is letting them do all of the work on purpose and shouts at Stormy to be quiet.
Little do the Trix know is that they are being watched by men dressed in camouflage hiding in nearby bushes. One of them men realizes that they are separated from their group which would make their job easier, so the two of them slide down the slope they are resting on in order to put the plan in motion. They meet up with two other men who are also dressed in camouflage, holding down a hunting troll. One of them orders the others to send the hunting troll after the Trix and leave them to it. Another one of the men then shows the hunting troll the Trix just below them and tells it to get them as the others let it free from its ropes.
As Darcy and Stormy are stuck picking extra herbs for Icy, a net is suddenly thrown onto the trio. Just as they realize that they are under attack, the hunting troll grabs the net they are trapped in and runs off. The men then head back to base as they comment on how no one will be able to suspect them.
Back at Mazakis' palace, Kozar reports that the mission had been accomplished. Mazakis, however, is confused as to why Kozar is back at the palace instead of being stationed with the rest of his men. That is when Kozar pulls out a laser gun from his pocket and points it at Mazakis. He realizes that Kozar is working for his enemies now and Kozar adds that they happen to pay him more than Mazakis regularly does, further explaining that he had sent the rest of his men somewhere far away so Mazakis would be caught completely defenseless. Just as he pulls the trigger, Berijas rushes into the office and knocks Kozar in the head with a rod, causing him to fire at the ceiling. Mazakis asks why Berijas had not come out of his hiding place sooner but Berijas claims that if he rushed in any earlier, Kozar could have killed them both. Now that his enemies know of his new home, Mazakis claims that Magix is no longer safe for them. Berijas suggests another move and Mazakis sends Berijas to prepare all of their things now that they need to move to a safer place.
Meanwhile, the Winx, Specialists and Darko are traveling through the Enclosed Territory looking for the Trix. Just then, Timmy spots a group of three hunting trolls surrounding the Trix , ready to beat them, so he lands the shuttle on a nearby cliff as the group hastily tries to come with a diversion. Bloom asks how it will work since they cannot use their magic while in the Enclosed Territory until Sky comes up with a plan. He directs Brandon and the others to lure the hunting trolls towards the entrance of the valley and keep them distracted as he and Bloom swoop in to free the Trix. Darko insists that he is coming along to help free the Trix and Sky lets him do so, but he makes sure to warn Darko not to pull any tricks.
Two of the hunting trolls climb up the cliff and immediately start to chase Brandon, Timmy and Stella, as Sky signals Bloom and Darko to run down to where the Trix are. However, when they try to get down, Sky realizes that one of the trolls stayed behind to guard the Trix. Sky pulls out his sword, getting ready to protect Bloom from the troll, but Darko claims that he will be able to take care of it. He leaps from the cliff and lands on the hunting troll's head, covering its face with his arms as he yells at it to turn left. As he manages to make the troll crash into the cliffside, Darko leaps from its head to avoid being hurt himself. Sky is impressed by how Darko was able to handle the troll like how he did, but Darko insists that this was the first time he had actually done so. Bloom tells the two boys that the Trix had fainted and she will need help carrying them out of the valley. The three of them are able to carry the Trix into the shuttle and they fly it off to look for the rest of their friends. They find Brandon, Flora, Timmy and Stella on another hill with the other two hunting trolls coming for them and manage to get them onboard safely. Bloom tries to get Icy to wake up but she is unsuccessful. Sky claims that they may be in shock and they decide to bring them back to Cloud Tower. As Bloom and Musa help Icy and Darcy walk into Cloud Tower, Icy asks where she is and if she was dreaming or not. She asks if she saw Darko or not until Bloom confirms that he did come with them and that he was able to defeat a troll all by himself in order to save her. Icy asks where he is because she wants to talk to him but, when they turn around, Darko is no longer there.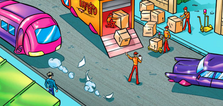 Darko returns to his father's palace and finds a bunch of men loading many boxes into moving trucks. He sees his father climbing into his limousine and runs up to him, asking what is going on. Mazakis tells Darko that they have to leave Magix right away. Darko tries to tell him that he cannot leave but Mazakis reveals that their lives are in danger if they were to stay any longer, adding that Darko would never abandon his own father. Darko gives in and climbs into his father's limousine. Just as they leave Magix, Darko bids farewell to Icy under his breath.
The next day, at Cloud Tower, Stormy and Darcy are talking about how Darko had to suddenly move after his father was almost killed. Darcy and Stormy indirectly tease Icy over the fact that Darko left without even saying goodbye and that he was able to make up with a certain group of little fairies. Darcy laughs and tells Stormy not to mention them because just thinking about how the Winx rescued them makes her hate them even more. Stormy agrees until Icy shouts at them to quit quacking like a bunch of old ducks. Stormy then directly teases Icy by claiming that their "little lovebird" may want to be left in peace, but Icy claims that love does not interest her; that what she is and what she has is enough for her. She then proclaims herself to be the Witch of Ice: the one who will crush the Winx and will someday rule the entire Magic Dimension.
Spells Used
None.
Mistakes
Debuts
Characters
Trivia
Community content is available under
CC-BY-SA
unless otherwise noted.