An arena packed with beauty queens... I'm scared to go in there.

This article is a C. It is missing three or more sections and has little to no imagery. Anything that can be added will be appreciated highly.
This article is about a fairy from Alfea. You may be looking for a witch from Cloud Tower.
Jade
is a
fairy
who attends
Alfea
.
Appearance
Jade has fair skin, blue eyes, and pale pink lips. She wears a pale green shirt with a purple diamond pattern on top, a dark pink skirt, purple leggings which reaches to her knees, pink socks and mint color shoes. She has long dark blue hair with square cut bangs.
Personality
She is a fairly quiet girl but is shown to be excitable shown when she learned that her teachers are the Winx.
Series
In "The Mirror of Truth," she is seen in a hall in Alfea as fairies return from their break. She is later seen roaming the halls with Clarice.
In "The Company of the Light," she gathers around the Winx as they are transported into Alfea's courtyard. She is later seen at Faragonda's assembly and asks what is going on.
In "The Pixies' Charge," she appears in Faragonda's office as she briefs the Alfea fairies and the Winx on Valtor's attack on the Fortress of Light. Later, she is at the assembly for the pixies and Kiko to celebrate their finding of Valtor still being in possession of the Agador Box.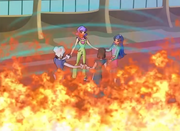 In "Witches' Revelation," she is seen with her classmates in Bloom's nightmare. They begin to look down at the Mark of Valtor on the floor.
In "Wizard's Anger," she, her classmate, and Griselda are running in Faragonda's direction, as instructed. After Griselda realizes there is no way out of the fire, Faragonda prompts everyone to hold hands and she will build a bubble around them. Just then, the fire begins to burn out. Later, at Alfea's entrance, she, her classmates, staff, and the Specialists cheer the Winx on for their efforts against Valtor.
Movies
The Secret of the Lost Kingdom
She and her classmates are seen during the Day of the Gift ceremony.
Magical Abilities
Jade may know some basic, first-level spells that all fairies can use, such as telekinesis, transmuting objects, and fixing minor messes. She is shown to be able to use convergence with Faragonda, Griselda, and another fairy. 
Gallery
Community content is available under
CC-BY-SA
unless otherwise noted.