Wow, did I just say that?

This article is a B. It is missing three or fewer sections, or some images need to be added. Please do what you can to help!
This article is about a fairy from Alfea. You may be looking for a witch from Cloud Tower.
Jade is a fairy who attends Alfea.
Appearance
Jade has fair skin, blue eyes, and pale pink lips. She wears a pale green shirt with a purple diamond pattern on top, a dark pink skirt, purple leggings which reaches to her knees, pink socks and mint color shoes. She has long dark blue hair with square cut bangs.
Personality
She is a fairly quiet girl but is shown to be excitable shown when she learned that her teachers are the Winx.
Series
Movies
She and her classmates are seen during the Day of the Gift ceremony.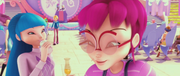 The media is covering Alfea and Cloud Tower curriculum and Jade is in Wizgiz's class as he, Cornelia, Trista and another student showcase metamorphosymbiosis. She watches as her classmates showcase their different levels of control over metamorphosymbiosis. She laughs when Trista is not able to completely transform into a rabbit, only her ears. Jade claps for her other classmate who successfully transformed into a unicorn.
Jade is then seen attending the party at Alfea thrown together with the Witches of Cloud Tower. After Faragonda finishes her speech about using magic responsibly, she and Emily turn to the buffet table. She indulges in a cupcake but notices three witches staying away from the food. She asks Emily why they are not eating and while Emily gives her opinion, Jade is turned into a frog. This causes panic amongst the fairies while the witches find it amusing, considering they were the ones who enchanted the food as a prank. Jade, in her frog form, is then kept in one of Aisha's morphix bubbles to keep everyone together. She is eventually turned back to normal.
Then, when the Tree of Life's positive side (the magic of the fairies) is severed, all fairy magic ceases. She and her classmates wake up in the middle of the night in a panic.
Thanks to Winx however, fairy magic eventually returns.
Magical Abilities
Jade may know some basic, first-level spells that all fairies can use, such as telekinesis, transmuting objects, and fixing minor messes. She is shown to be able to use convergence with Faragonda, Griselda, and another fairy. 
Gallery
Community content is available under
CC-BY-SA
unless otherwise noted.