Kind of, but we have better style.

This Article is an A! It has all the sections and images in place, making it complete.
Lady is Sky's dog. She only appears in Season 1.
Appearance
Lady has creamy blonde fur, blue-grey eyes, and a light brown nose.
Personality
Lady is friendly and playful. She is also very obedient, but only toward Sky.
Series
Season 1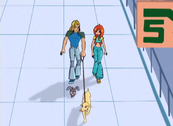 In "Friends in Need," she is seen when the Winx and the Specialists clean Alfea. Lady is stunned when Kiko accidentally hits her with a stick.
In "Bloom Tested," she is seen walking with Sky and Bloom during their date.
In "Miss Magix," she is seen under the table with Kiko on Bloom and Sky's date. She then goes on a walk with Bloom, Sky, and Kiko.