Winx Club Forever

This article has been completed. Only edit it if you think it can be improved.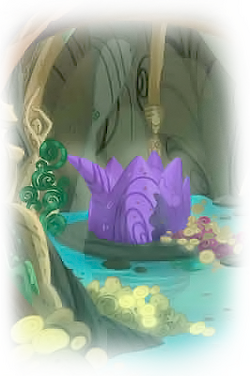 Lake Roccaluce, also called the Lake of the Fortress of Light or Light Rock Lake, is a lake introduced in Season 1.
Overview
Lake Roccaluce is a lake which is located right in the middle of the Magic Dimension in front of Alfea, Cloud Tower, and Red Fountain, not far from Magix City. The nymphs of Magix are said to live in its depths.
The Lake is partly surrounded by the Black Mud Swamp and the Fortress of Light is found above it.
Daphne's Cave
Daphne, Bloom's sister, once lived there and the cave became her residence after she was turned into a bodiless spirit when the Ancestral Witches destroyed her home planet of Domino.
The source of Lake Roccaluce's waters is found in the cave, and it is also the Source of Sirenix, where Omnia, the Supreme Guardian of Sirenix, resides.
Water Nymphs' Village
The Undines live in the lake, near the Black Mud Swamp. They live in a village of air bubbles attached to water lilies. These bubbles are made of a special material that they make out of a plant called Xilith.
Pre-Series
16 years before Season 1, when the Ancestral Witches were about to attack Domino, Daphne acquired the Sirenix power to fight them.
When the Ancestresses attacked Domino, Daphne tried using her Sirenix powers to fight the Witches but her powers turned against her because of the Witches' curse and turned her into a bodiless spirit, and she became bound to the cave where the Source of Sirenix is found.
Series
Movies
The Secret of the Lost Kingdom
Lake Roccaluce appeared in Bloom's dream where Bloom and Daphne talked about Domino, hoping Oritel and Marion were still alive.
Trivia
"Lake Roccaluce" translates to "Lake Light Fortress".
In the 4Kids dub, it is named "Lake Ephemera" and "Lake Chrysalis".
Gallery
Community content is available under
CC-BY-SA
unless otherwise noted.