Winx Club Forever

This article has been completed. Only edit it if you think it can be improved.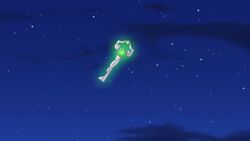 Legendarium Key
is a mystical object that is necessary to lock the
Legendarium
. In order to obtain it, two items must first be found: the
Fantasy Emerald
and the
Silver Spear
.
Appearance
It appears to be a silver key made of the Silver Spear, and is decorated by a green gem, made of the Fantasy Emerald.
Series
Season 6
In "Mythix", the Winx gain the Ancestral Wands, which contains the Mythix power, and enter the Legendarium world. They see the Doorway to the Worlds that tells them to look for the Fantasy Emerald and the Silver Spear and to forge these items to create the key to lock the Legendarium.
In "Mystery of Calavera", the Winx go to Calavera Island to find the Fantasy Emerald.
In "Zombie Invasion", Bloom continues to frantically search for the Fantasy Emerald before their time limit is up. After a few moments of searching, Bloom notices a big emerald embedded in the ship's bow. Plucking it out, she regroups with the rest of the Winx and they teleport out, crashing onto the cavern ground.
In "The Magic Totem", Flora brings back the Silver Spear into the Canada's Fearwood Forest and finds the last item to forge the Legendarium Key and with that Eldora forms the Legendarium Key.
In "The Anthem", Bloom trades the key with Rumpelstiltskin for Musa's voice.
In "Acheron", Bloom trades Acheron in the Infinity Box with Legendarium Key with Rumpelstiltskin.
In "Winx Forever", Selina locks the Legendarium for good by using the Legendarium Key. Following such, the key disappears.
Gallery
Community content is available under
CC-BY-SA
unless otherwise noted.