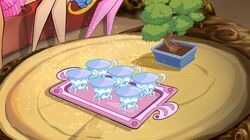 Lenugia Tea
is a drink introduced in
Season 6
.
Overview
Lenugia Tea is tea made from Lenugias. According to Flora, it has a wonderful aroma, but neither she nor the Winx like the smell when the teacup becomes close to their noses.
Appearance
Lenugia Tea is light purple.
Series
Season 6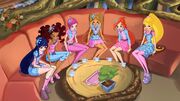 In "The Fairy Godmother," Eldora brews this drink and Flora notes its wonderful aroma. Eldora then presents the tea to the Winx and says that they are going to love it and it is unlike anything they have ever tasted before. The Winx pick up their teacups, and all make displeased noises after smelling their cups. Upon hearing this, Eldora asks if it needs sugar. Not wanting to offend Eldora, Stella says that the drink smells so interesting. She then directs Eldora's attention to her Magiflower Cactus. As Eldora tells the Winx about her plant, the Winx pour their tea into the bonsai in the center of the table in order to get rid of the tea, but this causes the bonsai to grow. Eldora, unfazed, simply notes that the bonsai woke up.
Community content is available under
CC-BY-SA
unless otherwise noted.