Wow, did I just say that?

This article is a B. It is missing three or fewer sections, or some images need to be added. Please do what you can to help!
Lesta is a fairy who attends Alfea.
Appearance
She has light brown hair but she has also been shown to have dark blonde hair, fair skin, grey eyes, and pale lips. She wears a pale blue top with an orange collar, pale orange pants with the top having a yellow ruffle belt around the waist line.
Her contestant outfit is a light pink, one piece, bodysuit with a transparent darker pink skirt on top. She wears a white brooch with the number three on it, and light pink high heels.
She wears a red magicians like jacket, with a white collar. White ankle high boots with a heel, and a white swimsuit like one piece under the jacket.
Series
Season 1
In "Miss Magix," Lesta makes her debut, half way though the episode she dose a juggling act only for the pins to land on her head. She is in the background when Lucy is crowned, and is still in the background when Stella was given the crown.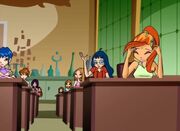 In "Honor Above All," Lesta is Professor Wizgiz's class freaked out and annoyed that there is pop quiz coming up. After the class is dismissed, she stays back and share a laugh with her classmates as she notices Bloom had fallen asleep on top of her notes which marked her face with ink. She then hears Griselda summon Bloom into the headmistress's office for falling asleep.
Lesta continues her day and eventually comes upon an envelope dropped by Professor Wizgiz's. She opens it; assuming they contained the answers to the pop quiz. Unfortunately, it explodes in her face and covers it in soot. She is wearing this when she returns to class the next day and is in dismay. She is slightly distressed when Flora returns Wizgiz's envelope only to learn that, that was the pop quiz - a test of honesty.
Magical Abilities
Lesta may know some basic, first-level spells that all fairies can use, such as telekinesis, transmuting objects, and fixing minor messes.
Gallery
Community content is available under
CC-BY-SA
unless otherwise noted.