Winx Club Forever

This article has been completed. Only edit it if you think it can be improved.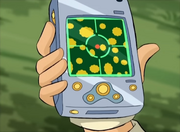 The
Localizer
is a technomagic device owned by
Timmy
.
Overview
The Localizer is a GPS tracker used to track a chip planted by its user. The chip can be placed on a target to follow them.
Appearance
The localizer is a fairly thick rectangular gadget with a silver body and is about the size of hand. On the face of the localizer is the a digital screen made of simple patterns denoting objects, buildings and plants (e.g. trees). The chip is shown as a red dot and its range is tracked by a teal-green circle.
On the top right corner is a black dot and below the screen is a panel with five yellow buttons - single button to the left and a smaller one to the right, between the two is a larger button and below this button are two more. On the top left side is another yellow button and on the bottom side is a yellow slider button.
The chip itself has a bright lime-yellow square with three bright green appendages. The appendages have the appearance of a six-legged insect and is the "adhesive"; attaching itself onto the person it was thrown at.
Series
Season 4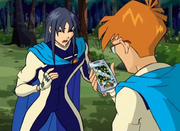 In "The Wizards' Attack," Timmy uses the device to track the chip he planted on Anagan. The device leads him and Helia into a forest, telling the two that Anagan is near but the signal is briefly lost. Timmy is able to get it back and now the device tells them that the Wizard is approaching them. This causes Helia to start getting anxious because he is unable to see his enemy. The device then says that Anagan is right in front of them but he is not.
That is when Anagan pipes up from above the tree and strikes them. He then removes the chip that was planted on him and shatters it, calling it "pathetic" since he outsmarted it.
Trivia
The chip resembles Tecna's Compu-Blast albeit the center appendages being longer than hers.
Community content is available under
CC-BY-SA
unless otherwise noted.