Wow, did I just say that?

This article is a B. It is missing three or fewer sections, or some images need to be added. Please do what you can to help!
Lockette is the Pixie of Portals (Pixie of Direction in the Nickelodeon dub), thus knowing her way anywhere. She has a hair clip that transforms into a scepter which helps her point people in the right direction.
Overview
Bloom often finds herself lost and is constantly on a journey to discover the secrets of her past throughout the series (or 'has many hidden passages in her heart'). Lockette not only helps Bloom find her way physically but also emotionally, as Bloom tries to discover her true self and connect with her power and family. Some people believe that Lockette might also have the power to open magical portals to other worlds. She is Bloom's bonded pixie.
Personality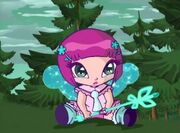 Being the second youngest of the Winx's pixies after Piff; her feelings get hurt easily.
In Season 3, she seems to have a dislike for Sky due to the brainwashing incident but she forgives him (but still becomes protective of Bloom). She also helps Bloom through all her emotional turmoil in Season 3.
Lockette is a sensible and cautious Pixie who is meticulous and tidy. The organization is her strong point and she does not like playing it by ear because when something unexpected happens she gets flustered; which makes her nervous and touchy, lose her self-confidence and get into trouble. Her friends know her well and try not to upset her, with the exception of Chatta though who enjoys upsetting Lockette.
She is very intelligent and sensitive and always ready to help anyone in trouble.
If things do not work out as planned, Lockette would not admit she was wrong and is quite stubborn. Although she is not prepared to admit she was wrong, she is ready to go to any length to show that she was right. Lockette who is generally shy and cautious then becomes overconfident and ends up complicating matters.
Appearance
Winx Club
PopPixie
Series
Winx Club
Movies
PopPixie
In "Lockette's Secret," hiding the fact that she had not yet gained her MagicPop, Lockette lies to her parents, uses Caramel's MagicPop without her consent and makes a lot of confusion on Caramel's Cake Shop. Later she tells all the truth and redeems herself with her parents and friends.
Magical Abilities
As a PopPixie, her powers increase and she can open portals, follow directions and teleport quicker.
In "The Legendarium", it is seen that Lockette and the other pixies are able to teleport.
As seen in "Broken Dreams," whenever Lockette is in danger/trouble, she is able to send a psychic alert to her bonded fairy to notify her about her current condition.
Uses of Magic
Trivia
Community content is available under
CC-BY-SA
unless otherwise noted.