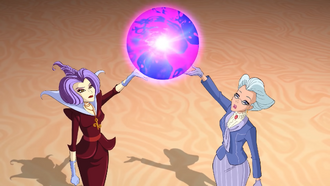 Magic
is the power used by the various inhabitants of the
Magic Dimension
. It appears throughout the
Winx Club
, the
Winx Club comic series
,
PopPixie
and
World of Winx
series.
Overview
The main source of magic is one's feelings, emotions and most of all, energy. There is light magic and dark magic. Light magic is the Magic that is fueled by positive feelings such as happiness and love. Dark magic is Magic fueled by negative feelings such as anger, vengeance or sadness. In the second movie, it is implied that all Negative and Positive magic in the universe is contained within the Tree of Life, and that the Tree keeps the balance between the Negative and the Positive energy.
Without energy, spells and even generic mystical feats cannot be done. This is shown when Bloom, Stella, and Aisha were in Darkar's underground cave passages. Darkar had effected the caves into consume mystical energy from any magical being. So, when three fairies entered them, their energy would be drained and temporarily reverted them into normal beings. As such, they could not transform or do simple mystical feats.
In Season 8, it is was stated that the source of fairy and witch magic comes from the same place - a spark of fire from the Great Dragon. The magic of Valtor in his reborn form comes from a different, unidentified source although his powers originally came from the Dragon's Flame too.
Types of Magic
Metamorphosymbiosis is a type of magic introduced in Season 1. It is a type of magic which allows the user to transform into another living being and to transform other things/people into another living being. There are different types of Metamorphosymbiosis.
Wild Magic is one of the practices of Metamorphosymbiosis, it is the darkest and most difficult practices of Metamorphosymbiosis as stated by Wizgiz. It turns a living creature into the most aggressive being. A beautiful plant can be turned into a carnivorous plant whereas a fairy animal can turn into a ferocious creature. It allows the user to take the appearance and powers of the fairy animal. Wild magic is the first step to gain the Ultimate Power of the Fairy Animals which has the first color of the universe as stated in the Tome of Nature. It completely changes the appearance and powers of the users making them evil. The users are then able to shape-shift themselves. The source of wild magic is restored in one of Alfea's secrets, the Hall of Fairy Animals. It can be cured by the Butterflix powers which are the essence of nature.
Chrono Magic is an ancient magic. It can be used by Sirenix fairies. Bloom is only the one shown to use it.
Convergence is the strong, joint force of multiple magic users. At Alfea, convergence is taught in the second year. However, this type of skill is not restricted to just one type of magical being. According to Darcy, a convergence spell requires harmony among the participants. The participants must focus on one point to cast a convergence spell. Throughout the series, fairies, witches, specialists, pixies, selkies, wizards, Ectoplasm Specters, and Fairy Animals have been seen using convergence.
Special Characteristics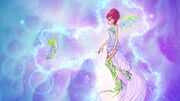 Bonding is a phenomenon where a strong connection is created between two magical creatures, whether it be emotional or empathic. From the very moment two creatures bond, they become almost like family, and their powers are strengthened, sometimes to such a degree where their magic is increased exponentially. In some cases, bonding can even restore magical energy to one of the creatures involved.
Sources of Magic
The sources of magic can be found in various items, plants, animals and even people with the latter being far more rare.
Known Users
The various sentient beings known to be able to use magic are
More coming soon...
In addition to sentient beings, various animals, plants and other creatures are also capable of using magic.
More coming soon...
Trivia
Magic is the power to use supernatural forces and it appears or forms part of cultures, religions, mythologies and fiction from all over the world.
Community content is available under
CC-BY-SA
unless otherwise noted.