(4 intermediate revisions by one other user not shown)
Line 1:
Line 1:
−

{{B}}

+

{{B}}

−

{{Infobox/Character

 
 

|theme = H

 

|theme = H

 

|other = Ypsi

 

|other = Ypsi

Line 17:
Line 16:
 

|italian = Ilaria Giorgino

 

|italian = Ilaria Giorgino

 

|nick = Jennifer Cody

 

|nick = Jennifer Cody

 
⚫
−

|gallery = Yes}}

 
⚫
 
 
 
 

==Appearance==

 

==Appearance==

Line 37:
Line 35:
 

In "[[Winx Club - Episode 614|Mythix]]", Magnethia and the other mothers celebrate Mother's Day at [[Alfea]].

 

In "[[Winx Club - Episode 614|Mythix]]", Magnethia and the other mothers celebrate Mother's Day at [[Alfea]].

 
 
−

Magnethia reappears again in "[[Winx Club - Episode 621|A Monster Crush]]" along with [[Electronio]] because the Winx had to get a device to make [[Cloud Tower]] visible again after the [[Trix]] made it invisible. Therefore the Winx meet [[Tecna]]'s parents while teaching them habits that occurred on [[Zenith]].

+

Magnethia reappears again in "[[Winx Club - Episode 621|A Monster Crush]]" along with [[Electronio]] because the Winx had to get a device to make [[Cloud Tower]] visible again after the [[Trix]] made it invisible. Therefore the Winx meet [[Tecna]]'s parents while teaching them habits that occurred on [[Zenith]].

 
 
 

[[File:Lm60TtNE6Yk.jpg|thumb|right]]

 

[[File:Lm60TtNE6Yk.jpg|thumb|right]]

−

After getting the invisibility device, It appears that [[Frankenstein's Monster]] another creature summoned by [[Selina]] is attacking half the city and the Winx were forced to stop. The monster in love with [[Tecna]] and takes her into the [[Legendarium World]]. At the end, the Winx & [[Tecna]] say goodbye to Magnethia and [[Electronio]] before returning to [[Magix]].

+

After getting the invisibility device, It appears that [[Frankenstein's Monster]] another creature summoned by [[Selina]] is attacking half the city and the Winx were forced to stop. The monster in love with Tecna and takes her into the [[Legendarium World]]. At the end, the Winx Tecna say goodbye to Magnethia and [[Electronio]] before returning to [[Magix]].

 
 
 

|-|Season 7=

 

|-|Season 7=

Line 49:
Line 47:
 

===#161: Technomagic Competition===

 

===#161: Technomagic Competition===

 

{{Article/Incomplete}}

 

{{Article/Incomplete}}

−
 
 
 
 

==Trivia==

 

==Trivia==

 

*Her name is probably derived from the word "magnet" or "magnetism", since magnets and magnetism are important in computer technology.

 

*Her name is probably derived from the word "magnet" or "magnetism", since magnets and magnetism are important in computer technology.

−

*She is the first member from [[Tecna]]'s family who is introduced in the animated series and her appearance is different from the comic version.

+

*She is the first member from [[Tecna]]'s family who is introduced in the animated series and her appearance is different from the comic version.

 

**In the comics, she has shorter and purple pinkish hair.

 

**In the comics, she has shorter and purple pinkish hair.

−

**In the comics, she is the Queen of Titania, which is [[Tecna]]'s realm in the comics.

+

**In the comics, she is the Queen of Titania, which is Tecna's realm in the comics.

−

**Eventually, her animated appearance is transferred over to the comics and her old comic appearance is no more. Much like her husband, Electronio.

+

**Eventually, her animated appearance is transferred over to the comics and her old comic appearance is no more. Much like her husband, Electronio.

 

*Her name is '''Ypsi''' in the story book.

 

*Her name is '''Ypsi''' in the story book.

 

*Her voice actress also voiced [[Lazuli]] and [[Darcy]] in the [[Nickelodeon]] dub.

 

*Her voice actress also voiced [[Lazuli]] and [[Darcy]] in the [[Nickelodeon]] dub.

Line 69:
Line 66:
 

[[Category:Tecna]]

 

[[Category:Tecna]]

 

[[Category:Timmy]]

 

[[Category:Timmy]]

−

[[Category:Season 6]]

+

[[Category:Season 6]]

−

[[Category:Season 7]]

+

[[Category:Season 7]]

 

[[Category:Comics]]

 

[[Category:Comics]]

 

[[Category:Human]]

 

[[Category:Human]]
---
Revision as of 12:58, 22 December 2019
Wow, did I just say that?

This article is a B. It is missing three or fewer sections, or some images need to be added. Please do what you can to help!
Magnethia is Tecna's mother and Electronio's wife. She first appears in Season 6 when she goes to Alfea for Mother's Day.
Appearance
She has fair skin, light green eyes and short cyan hair. She wears a long turtleneck purple top with a matching purple bottom. She wears black boots. Her outfits and boots are decorated by neon green parts. She wears dark-purple headband-like item and triangle spring green earrings.
Personality
She is shown to be friendly, and clearly cares for her daughter. Though not much else is known about her personality.
Series
Seasons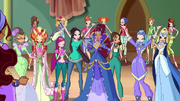 In "
Mythix
", Magnethia and the other mothers celebrate Mother's Day at
Alfea
. Magnethia reappears again in "
A Monster Crush
" along with
Electronio
because the
Winx
had to get a device to make
Cloud Tower
visible again after the
Trix
made it invisible. Therefore the Winx meet
Tecna
's parents while teaching them habits that occurred on
Zenith
.
After getting the invisibility device, It appears that
Frankenstein's Monster
another creature summoned by
Selina
is attacking half the city and the Winx were forced to stop. The monster in love with Tecna and takes her into the
Legendarium World
. At the end, the Winx and Tecna say goodbye to Magnethia and
Electronio
before returning to
Magix
.
In "A Fairy Animal for Tecna", the Winx go to Zenith to get the Technomagic Globes repaired as it was broken by the Fairy Animals while they were having fun. Tecna takes the Winx to the techno magic geniuses, her parents. Magnethia offers the Winx some silicon juice while they were waiting for the techno magic globe to be fixed. Suddenly the work-robots and every thing in Zenith start to go haywire. Their Stones of Memories appear and the Winx decide to go back in time to see what the problem was. After the the solving the problem, Flitter fix the Techno Magic Globes.
Comics
#161: Technomagic Competition
This section lacks information. Please help us by expanding it
Trivia
Her name is probably derived from the word "magnet" or "magnetism", since magnets and magnetism are important in computer technology.
She is the first member from Tecna's family who is introduced in the animated series, and her appearance is different from the comic version.

In the comics, she has shorter and purple pinkish hair.
In the comics, she is the Queen of Titania, which is Tecna's realm in the comics.
Eventually, her animated appearance is transferred over to the comics, and her old comic appearance is no more. Much like her husband, Electronio.

Her name is Ypsi in the story book.
Her voice actress also voiced Lazuli and Darcy in the Nickelodeon dub.
Community content is available under
CC-BY-SA
unless otherwise noted.