Wow, did I just say that?

This article is a B. It is missing three or fewer sections, or some images need to be added. Please do what you can to help!
Queen Marion (also called Queen Mariam or Queen Miriam) is the queen of the realm of Domino. She is the wife of King Oritel, biological mother of Crown Princess Daphne and Princess Bloom, and mother-in-law to Prince Thoren as of the Season 6 finale. She was also the co-founder and prominent member of the former Company of Light.
Appearance
Personality
Marion carries herself as a very calm and demure queen, acting as the more level-headed voice of reason between her and Oritel. All throughout the second movie, she is seen affectionately following her husband and acts as either an advisor to him or a mediator between him and Bloom due to their stubborn natures. In fact, it is because of Oritel's stubborn tendencies that he often mulls over and considers whatever pieces of advice Marion gives him as she is almost always able to find an answer for the problems he may be facing while he is stuck unable to find any himself (or admit to any due to being stubborn and traditional). Though she is aware of the importance of royal protocol, Marion seems to prefer being a bit more flexible, as she will be more than happy to bend a few rules if it means keeping her children content. She can also act a benevolent guiding hand with Bloom similarly to how Daphne was for most of her youth. While Oritel can be overbearing at times, Marion gives Bloom the space she needs to live her life freely, believing that she had already become the wonderful princess Domino needs.
Likewise, she is a very loving person who holds a lot of love for her family, kingdom and comrades. Her love towards everyone important to her acts as the source of her bravery and determination, especially when she was an acting member of the Company of Light in its heyday. She is also shown to be very cool and collected in battle, refusing to let her emotions spill out of control as any misstep could spell her demise (which it did for almost two decades). However, if any one of her loved ones are put in mortal danger, Marion becomes more reckless and panicked, which can be seen with how she transferred herself into her husband's sword as he was dragged into Obsidian. This particular fear of losing Oritel also rears its ugly head in her confrontation with the Trix in Season 5, so her close brush with death at the hands of the Ancestral Witches seems to be something she tries to keep locked behind her usually demure demeanor to keep from looking weak or worrying her loved ones.
Pre-Series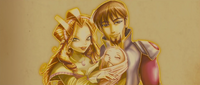 Sometime during her youth, Marion met Oritel, most likely through an arranged marriage, which is a long upheld tradition in the Domino Royal Family as revealed in the movie, Magical Adventure. The two presumably enjoyed a happy, love-filled marriage together, during which they bore two daughters: the eldest they named Daphne and the youngest, Bloom.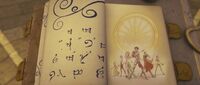 During her reign as queen, the Ancestral Witches had uncovered the location of the Dragon's Flame on her realm. Aware of the destruction and death that the Witches often left in their wake, Marion established the Company of Light, a group of fearsome magical warriors, alongside her husband and king, Oritel. Those who joined the Company of Light alongside them were Hagen, Faragonda and Saladin. Griffin would later join their ranks after fleeing from her previous alliance with the Witches and their son, Valtor. Marion would go on to engage in countless battles against the Ancestral Witches with the Company of Light until their eventual raid on Domino after managing to foiling one of Oritel's plans to ensure the realm's safety.
As Marion and the Company of Light tried to fend off the Ancestral Witches, they were left to face off against Valtor as the Witches raided the royal palace. Daphne, her eldest daughter, teleported Bloom to Earth where the Witches would never find her or the Dragon's Flame, which she had already transferred over to her.
The Company of Light fought against the Ancestral Witches and their forces with all their might until they were successful in defeating them. Unfortunately, Marion could not celebrate their victory as both her daughters were presumably killed in the attack; Daphne was reduced to a spirit without a body and Bloom was nowhere to be found.
Just as the Company of Light prepared to do away with the Witches for good by banishing them into the dark realm of Obsidian, Oritel was dragged into the portal with the Witches. Refusing to abandon the only family she now had left, Marion cast a spell to transfer her spirit inside the blade of her husband's sword. Additionally, the overwhelmingly negative energy pouring out from the Obsidian portal sucked in all the surviving inhabitants and froze the realm over.
Inside the realm of Obsidian itself, Marion remained dormant inside Oritel's sword as her husband and the rest of her people were petrified in black stone.
Series
Seasons
Specials
The Shadow Phoenix
Similar to her appearance in the episode "The Spy in the Shadows," Marion appears alongside Oritel within Bloom's subconscious magical journey during a session with Professor Avalon. They appear at the end of a tunnel made of smoke and call out to Bloom, who is ultimately unable to reach them when the image of a Dragon appears above them.
Movies
Comics
Winx Club
World of Winx
#164: The Ice Land
Community content is available under
CC-BY-SA
unless otherwise noted.