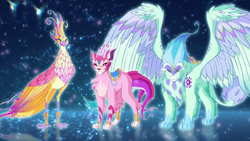 The MiniWorlds are dimensions introduced in Season 7.
Overview
The Fairy Animals of the Winx introduced the existence of the MiniWorlds. They told them that the keys to these worlds are the Tynix Bracelets. According to Elas, they are near but also far away at the same time from the ordinary world. With their bracelets, they can communicate with the animals inhabiting the MiniWorlds.
Locations
| | |
| --- | --- |
| Series | Comics |
Series
Season 7
In "Tynix Transformation," the Winx receive the Tynix Bracelets from their bonded Fairy Animals and they transformed into Tynix fairies. Once they are in an unknown MiniWorld dimension, their Fairy Animals tells them that there are dimensions known as the MiniWorlds and the Tynix Bracelets are the keys to enter them.
This section lacks information. Please help us by expanding it.
Comics
Season 7
This section lacks information. Please help us by expanding it.
Trivia
The MiniWorlds very are similar to and might have been inspired by the Quantum Realm which appears in the Marvel Cinematic Universe movie franchise and plays a prominent role in the Ant-Man and Ant-Man and the Wasp movies. The Quantum Realm is an alternate dimension only accessible through magical energy, mystical transportation, or by tremendous subatomic shrinking. Similarly, the Tynix power in Winx Club allows fairies to miniaturize themselves so they can access the MiniWorlds.

In the Marvel Comics on which the movies of the Marvel Cinematic Universe are based, the Quantum Realm is known as the Microverse. Another similarity is that both the MiniWorlds and the Microverse are inhabited and have their own population, with the Microverse being the home of the superhero team called the Micronauts.

The name MiniWorld and Microverse have a similar meaning since both mean a very small world or dimension.
However Marvel Studios, the studio which produces movies based on Marvel Comics and therefore produces the movies of the Marvel Cinematic Universe, cannot use the name "Microverse" as it is packaged with the Micronauts film rights that are with Paramount Pictures[1]. Interestingly, Paramount Pictures is owned by Viacom, the same company which owns Nickelodeon and co-owns Rainbow S.r.l.. Due to this cross-ownership, Paramount is a common home video licensor for Winx Club.
Gallery
References