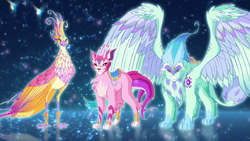 The
MiniWorlds
are dimensions introduced in
Season 7
.
Overview
The Fairy Animals of the Winx introduced the existence of the MiniWorlds. They told them that the keys to these worlds are the Tynix Bracelets. According to Elas, they are near but also far away at the same time from the ordinary world. With their bracelets, they can communicate with the animals inhabiting the MiniWorlds.
Locations
Series
Season 7
In "Tynix Transformation," the Winx receive the Tynix Bracelets from their bonded Fairy Animals and they transformed into Tynix fairies. Once they are in an unknown MiniWorld dimension, their Fairy Animals tells them that there are dimensions known as the MiniWorlds and the Tynix Bracelets are the keys to enter them.
Community content is available under
CC-BY-SA
unless otherwise noted.