I'll catch you on the download!

This article is a stub. You can help Winx Club Wiki by expanding it. Make sure to check the standards before editing.
The Molly Moo appears in PopPixie and Winx Club. It is the most famous and popular cake shop in Pixieville. Its windows are filled with goodies and its gazebo is the best place to enjoy cakes and pies freshly made by Caramel.
Overview
Caramel combines her cooking skills with magic to create enchanted recipes: animated talking cakes and rare-flavored ice creams. Cakes and sweets flies out of oven and place themselves on trays or even directly on the tables of customers. This creates colorful movements and aromas - the best publicity for Molly Moo. Behind the shop's counter is Caramel's off-limits kitchen. The pixies gather here, turning the shop into their private club and meeting place to gossip and plan their free time.
PopPixie
This section lacks information. Please help us by expanding it.
In "A Pixie Fish", the shop only makes a brief appearance when Amore and others were heading to Rainbow Lake.
In "Lockette's Secret," Lockette pretends to her parents that she is the owner of Molly Moo and makes a cake with Caramel's MagicPop, accidentally giving it to the elves that starts destroying the place. Caramel uses her MagicPop, defeats them and saves the shop.
In "Caramel's Ice Cream Tree," Molly Moo is stormed by Pixieville inhabitants because of the hot summer, and gets submerged by ice cream because of Caramel's tree.
Winx Club
Season 6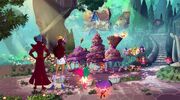 Molly Moo is seen during "Legendary Duel" after Aisha rescues the pixies from the Legendarium World.
Staff
Gallery
PopPixie
Winx Club
Background