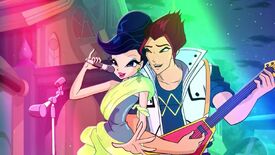 "Riven is no longer part of my life, but I know it was the right choice. We weren't made for one another."
Musa and Riven are a couple featured in Winx Club. As one of, if not, the most tumultuous relationship formed within the main cast, the pair naturally dealt with more than their fair share of issues, resulting in them having experienced the most breakups.
The couple separated in sixth season, but they start dating again in season eight (episode "The Secret of Harmony").
Overview
Due to their own emotional hang ups, Musa and Riven have had difficulty understanding one another. Having first met in the Black Mud Swamp in the episode of the same name, Musa quickly developed a crush on him, initially drawn to the air of mystery she believed he held behind his tough exterior. Unfortunately, Musa's feelings were left unrequited as Riven seemed to want nothing to do with her and seemingly enjoyed teasing her. To make matters worse for Musa, Riven began dating Darcy, which Musa finds out about when she unintentionally catches them having a private moment in the episode "Betrayed!" As Riven continued dating and working for Darcy, Musa slowly set aside her feelings after seeing him less as the bad boy she was initially drawn to and more as a terrible, overly hostile person.
Despite it all, Musa and Riven are seen as friends in Season 2, after Riven had properly redeemed himself, and later become a couple by the season finale after Musa kisses him while under the impression that she had lost him to Lord Darkar's attack. All seemed well until Season 3, where their relationship hit such a rough patch that Musa frequently contemplated a possible breakup. This instance eventually led to a string of on-and-off romance between the two as, whenever they faced a potential breakup, the two were suddenly drawn closer than before and would rekindle their romance only for the cycle to repeat itself about a year later.
Instances of this would come in the form of Riven fighting for Musa with Ophir under the assumption that he was trying to steal her away, Riven's bout of jealousy at Musa's budding career in Season 4 due to her new manager, Jason Queen, Musa's suspicions of Riven cheating on her in Season 5, and Riven's suddenly cold demeanor in Season 6, which seemed to have broken the pair up for good.
The constant on-and-off nature of their romance often left Musa feel like she was walking on eggshells, as reflected in her song, Heart of Stone, where she describes how she frequently felt like she could never fully understand Riven due to him bringing her emotions up and down so much to the point where she felt like she was losing her mind. Despite Musa's best efforts to reach out or even change Riven, he would always default back to being cold and emotionally withdrawn, further drawing a rift between the two. As for Riven, despite his own efforts to make their relationship work and keep Musa happy, the very fact that their relationship was so rocky proved that the two of them could not fully salvage it, resulting in their final breakup in "The Anthem."
Series
Seasons
Movies
Musa and Riven seem to be in a good place within their relationship around the start of The Secret of the Lost Kingdom as the two are able to tease each other without aggravating or hurting the other. Though Riven still tries to act tough out of habit, Musa can see right through him, especially since he went out of his way to see her graduate from Alfea with the rest of the Winx (sans Bloom). Real trouble strikes when Riven gets bitten by one of Mandragora's bugs while guarding the outside of the library above the Roc, which forces him under Mandragora's hypnosis and turns him into her mindless slave.
This results in Riven stealing the key to the Obsidian Dimension from Bloom's grasp just before the Winx open the portal, leading into a fight with Sky for it. Riven overpowers Sky enough during the fight that he comes close to stabbing him, but is stopped when Musa jumps between the two and is stabbed in Sky's place. Seeing Musa lying lifeless on the ground triggers all of the memories of her and their time together, and prompts him to rush to her side and hold her close as he sheds black tears, showing how his love for Musa began freeing himself from Mandragora's hypnosis.
When the tears fall on Musa's face, she begins to open her eyes, now brought back from her brush with death, relieving Riven of all his grief. He then hugs her closely as he confesses to knowing who he is supposed to be fighting for, and the two share a kiss.
Not much happens between Musa and Riven throughout the course of Magical Adventure outside of a few small scenes, like when the two are featured together during the It's Magix! exposé, where the host goes on to report how every one of the Winx girls are happily taken. They also share a kiss when the Winx arrive on Eraklyon.
Comics
Songs
As a couple, Musa and Riven have songs sang by either one or both of them:
Gallery
Main article: Musa and Riven/Gallery
Trivia
Musa and Riven are the only main couple out of the others to have gone through a major breakup. Twice, in fact.

They are also the only main couple to break up willingly, as Aisha and Nabu were forced apart due to Nabu's death.
Ironically, Musa and Riven do not go through the most break ups in the comics as they only go through two (almost three) notable ones. That claim goes to Stella and Brandon with four.

Supposedly, Musa and Riven's relationship was meant to end with their breakup in Season 4 but Rainbow backpedaled on the decision upon noticing the negative fan reaction, which resulted in the two giving their relationship another chance by the season finale.
Much like Bloom and Sky, Stella and Brandon and, later, Aisha and Nex, at least one party in the relationship has an ex-lover. In this case, Riven dated Darcy for most of Season 1.
Community content is available under
CC-BY-SA
unless otherwise noted.