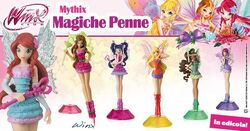 Mythix Magic Pens is a line of figurines. The line includes Bloom, Stella, Flora, Musa, Aisha, and Tecna. These figurines are part of Issue 138: The Stone Forest.
Description
"They are magical, you can write and play... they are the Mythix Magic Pens! In each package you will find a Winx and its fabulous accessory set: a glittered pedestal, shimmering wings and the Mythix magic wand. Have fun exchanging them! Bloom can also find it with Winx Magazine n. 138. Watch the videos and discover the entire collection!"
Features
This section lacks information. Please help us by expanding it
Gallery
Commercial
Review
External Link
Community content is available under
CC-BY-SA
unless otherwise noted.