Kind of, but we have better style.

This Article is an A! It has all the sections and images in place, making it complete.
The Mother and Father of Nabu who made an arrangement with King Teredor and Queen Niobe to betroth their children to one another.
Appearance
The mother has tan skin, a dot in the middle of her forehead, pale pink lips, silver eyes, and long straight dark brown hair tied back with a pale blue bow.
The father has grey hair tied into a ponytail, a small beard, round glasses, and light tan skin. He wears a purple jacket with a high collar, a dark blue top and a pale blue under shirt with a collar that covers his neck. 
Personality
Due to their lack of appearances, not much is known about the two however, they appear to be understanding and nice people.
Series
Season 3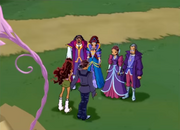 As per tradition, the parents made an agreement with their rulers to arrange a marriage between their son and daughter. It can be assumed that they had told their son of the arrangement the same time Aisha was informed. However, this was met with disagreement from Nabu who absolutely despised the idea. One day, they discovered he had ran away and sent their bodyguards to search for him.
After a month, their bodyguards succeeded in locating Nabu which forced him to explain to Aisha exactly what was going and who he truly was - her fiancé. He also confessed that he is in love with her. The next day, the parents come to Alfea with their rulers to speak with their children. Both sides apologized to each other, with the parents apologizing for going against their son's morals. However, they were happy that destiny had worked itself out. The parents embrace their son as they reach an understanding.