Winx Club Forever

This article has been completed. Only edit it if you think it can be improved.
Nature's Key is a power introduced in Season 5.
Overview
Nature's Key is a boon guarded by the Ancestral Spirit of Nature, which she gave to the Winx after completing the Challenge of Graynor. The power is one which will open for its users what was once closed. It allows them to join together and take the first step.
Appearance
Nature's Key is a golden dust that becomes a golden shimmer when bestowed on someone. When in use, it manifests in red and blue spots of light.
Series
Season 5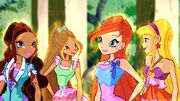 In "The Power of Harmonix," Faragonda tells the Winx about the the Challenge of Graynor, and that the best fairies in the Magic Dimension will be there to compete for the boon of the Ancestral Spirit of Nature. She wants the Winx to represent Alfea, and they gladly accept. Later, the Winx arrive at Graynor and hear the Ancesal Spirit of Nature speak about the conditions of the challenge: she will gift the boon to those who find the Creature of the Rainbow Mantle, an illusive creature that can only be found by proving oneself worthy, and returning her to the starting point. During a battle with the Trix, the Winx find the creature, who reveals herself to them and uses its power to fend off the Trix. After bringing the creature back to the start, the Ancestral Spirit of Nature grants the Winx the boon. Later, at Alfea, the Winx use the boon to open the Sirenix Book.
Trivia
In the original version of "Harmonix," Nature's Key is mentioned: "I feel the Nature's Key inside me, a magic glow shines around me".
Gallery
Community content is available under
CC-BY-SA
unless otherwise noted.