Nickelodeon is a sister company to Rainbow S.r.l. through their parent corporation, Viacom. Nickelodeon channels worldwide have broadcast Winx Club since its debut in 2004. In 2010, Nickelodeon's American animation studio announced that it would co-produce four Winx Club specials as well as the fifth and sixth seasons of the show.
Overview
Nickelodeon was founded in 1977. It is usually simply called Nick and was originally named Pinwheel. It is owned by Viacom and is aimed at children from 7 to 17 years.
Involvement in Winx Club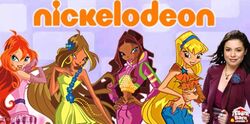 In 2005, many of Nickelodeon's international networks (including Nick Germany, Nickelodeon Netherlands, Nickelodeon Nordic and Nickelodeon UK) began airing the series.
On September 2, 2010, Nickelodeon announced it would co-produce four hour-long Winx Club specials as well as the fifth and sixth seasons of the series. Production on these episodes was divided between Nickelodeon Animation Studio in the U.S. and Rainbow in Italy. Nickelodeon assembled a writing team for Winx, and some of the company's long-time staff members (including Janice Burgess and Adam Peltzman) wrote for the show. Elisa Rosselli of Rainbow worked with Nickelodeon's Peter Zizzo to write and produce many of the songs for these episodes. According to Flora's voice actress Alejandra Reynoso, the episodes of the fifth and sixth seasons were animated to match Nickelodeon's English voice cast, unlike previous seasons that had been animated to match the Italian cast.
The existing episodes and two theatrical films were broadcast on Nickelodeon's flagship American channel and Nickelodeon channels worldwide. In English, the Nickelodeon cast dubbed the films and seasons 3-4 at Nickelodeon Burbank. On June 27, 2011, the first of four one-hour specials, created to summarize the first two seasons, aired, with the second set to air on August 1. Season three aired in full when the specials finished, with season four right after. The fifth and sixth seasons premiered on Nickelodeon U.S. ahead of the Italian broadcast.
During the sixth season, Rainbow shifted the show's target demographic and the show was moved from Rai Due to Rai Gulp in Italy, as well as from Nickelodeon to Nick Jr. in the United States. After Viacom's Italian branch became a co-owner of Rainbow in 2011, production on the seventh and eighth seasons returned to Italy, with the American team remaining as consultants. Additionally, music by Nickelodeon Inc. continued to be used in both seasons. On January 10, 2016, Season 7 premiered on Nick Jr. in the US. At the Licensing Expo 2019, Nickelodeon was again confirmed as the worldwide pay TV partner for the series.[1]
In the United Kingdom, Winx Club is one of Nickelodeon UK's highest-rated and most popular shows. It increased Nickelodeon's ratings by 58% on its launch weekend in September 2011, coming in as the second-most-popular program on the entire channel and the most popular show with females aged 7-15.[2] As of 2019, it is one of just two animated shows remaining on the network, airing multiple times a day due to high ratings.
Starting in 2011, Nickelodeon invested US$100 million in advertising for the series and began releasing Winx Club merchandise worldwide. Nickelodeon named JAKKS Pacific the show's primary merchandising partner in 2012. They have also released many Winx Club books under Nick's partner Random House as well as a video game called Winx Club: Magical Fairy Party.
Co-Productions With Rainbow S.r.l
Website Games
Trivia
Nickelodeon USA includes regular Nickelodeon, Nicktoons, Nick at Nite, and Nick Jr (formerly known as Noggin).
Nickelodeon UK includes regular Nickelodeon, Nicktoons, Nick Jr, and Nickelodeon HD.
Nickelodeon Canada includes regular Nickelodeon and a channel formerly known as Discovery Kids.
Many international Nickelodeon websites have been combined into one global site.
Nickelodeon Canada opened up in November 2, 2009 which was the start of Season 4 and did a marathon for it since it just opened up. They did the same for Season 5 marathon.
The Winx Power Show performed at Nickelodeon's European Kids Choice Awards in 2007.[3]
References
External links
Community content is available under
CC-BY-SA
unless otherwise noted.