Nickelodeon is a sister company to Rainbow S.r.l. through their parent corporation, Paramount Global. In 2010, Nickelodeon Animation Studio announced that it would co-develop four specials based on Winx Club as well as brand-new seasons of the show.
Since 2010, episodes of Winx Club have been written with Nickelodeon's American team. Series creator Iginio Straffi directed Nickelodeon's writers to help make the show multicultural. In a 2019 interview, Iginio Straffi talked about his near-decade of collaboration with Nickelodeon, saying that "the know-how of Rainbow and the know-how of Nickelodeon are very complementary; the sensibilities of the Americans, with our European touch."
The continued partnership between Rainbow and Nickelodeon on Winx Club has led to them developing new shows together, including Club 57 in 2019. Many former staff members from Winx Club moved to work on Club 57.
Overview
Nickelodeon was founded in 1977. It is usually simply called Nick and was originally named Pinwheel. It is owned by Viacom and is aimed at children from 7 to 17 years.
Involvement in Winx Club
In 2004, many of Nickelodeon's international networks (including Nickelodeon Germany, Nickelodeon Netherlands, Nickelodeon Nordic and Nickelodeon UK) began airing the series.[1]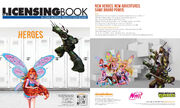 Viacom (the parent company of Nickelodeon) became a co-owner of the Rainbow studio in February 2011. Viacom originally planned to buy out the entire company,[2] but in order to keep Iginio Straffi at the helm, they purchased 30% of the company for 62 million euros (US$83 million)[3] and left the remaining 70% to Straffi. After the purchase, Viacom's Nickelodeon studios started to collaborate together with Rainbow on many projects, including Winx Club, the pilots "Crazy Block" and "My American Friend", and the 60-episode series Club 57.
Viacom launched and financed a relaunch of Winx Club, now jointly produced between Viacom's Nickelodeon and Rainbow. Viacom called their revival an "all-new Winx Club"[4] and a "fresh take on the [Winx] property,"[5] rather than a direct continuation of the previous seasons. The Nickelodeon revival encompassed four hour-long Winx Club specials as well as the brand-new fifth, sixth,[6] and seventh seasons[7] of the series.
Since production on the revival was divided between two different countries (Italy and the United States), the American team released a statement commenting on how Winx Club was an unusual production for their company: "it's not our usual practice to co-produce cartoons; we make them by ourselves. But we strongly believe in Winx."[8] Viacom assembled a writing team for Winx, and some of Nickelodeon's long-time staff members (including Janice Burgess and Sascha Paladino) wrote for the show. Elisa Rosselli of Rainbow worked with Nickelodeon's Peter Zizzo to write and produce many of the songs for these episodes.
The existing episodes and two theatrical films were broadcast on Nickelodeon's flagship American channel and Nickelodeon channels worldwide. On June 27, 2011, the first of four one-hour specials, created to summarize the first two seasons, aired, with the second set to air on August 1. Season three aired in full when the specials finished, with season four right after. The fifth, sixth, and seventh seasons premiered on Nickelodeon channels worldwide ahead of the Italian broadcasts.
The dubbing studio used for the specials and all Winx Club projects aired sans Season 7 is Atlas Oceanic Sound and Picture. Viacom selected many of Nickelodeon's biggest stars to voice characters on Winx Club, including Ariana Grande as Diaspro, Liz Gillies as Daphne, Matt Shively as Sky, and Daniella Monet as Mitzi.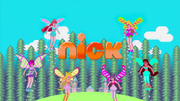 During the sixth season, Rainbow shifted the show's target demographic and the show was moved from Rai Due to Rai Gulp in Italy, as well as from Nickelodeon to Nick Jr. in the United States. In 2014, Viacom relocated the series' English cast to DuArt in New York City, just minutes from Viacom's headquarters. This was done as a cost-cutting and time-saving measure: at the time, Rainbow was undergoing a significant financial loss due to the box-office failure of its film Gladiators of Rome. The CGI-animated segments from seasons 5-6 and California voice cast were deemed too costly to continue using for season 7, so a new English cast was chosen.
Nickelodeon officially announced the seventh season in a press release on April 8, 2014.[7] In the article, series creator Iginio Straffi was quoted saying "It will be a privilege to partner once more with Nickelodeon on this."[7]
When production officially began on the soft-rebooted eighth season of Winx Club (which was completely restyled to target a preschool demographic), Nickelodeon's American team was busy working with Rainbow on their newest joint production called Club 57. As a result, the Americans held a consultant role rather than fully overseeing the season. Additionally, music by Nickelodeon Inc. continued to be used in this season. At the Licensing Expo 2019, Nickelodeon was again confirmed as the worldwide pay-TV home for the series.[9]
In the United Kingdom, Winx Club is one of Nickelodeon UK's highest-rated and most popular shows. It increased Nickelodeon's ratings by 58% on its launch weekend in September 2011, coming in as the second-most-popular program on the entire channel and the most popular show with females aged 7-15.[10] As of 2019, it is one of just two animated shows remaining on the network, airing multiple times a day due to high ratings.
Starting in 2011, Nickelodeon invested US$100 million in advertising for the series and began releasing Winx Club merchandise worldwide. Nickelodeon named JAKKS Pacific the show's primary merchandising partner in 2012. They have also released many Winx Club books under Nickelodeon's partner Random House, as well as a video game called Winx Club: Magical Fairy Party.
Co-Productions With Rainbow S.r.l.
Fan Response
Starting with the fifth season, Iginio Straffi changed the show's target demographic to a younger audience. Some fans have incorrectly blamed Viacom (co-owner of Rainbow since 2011) for this decision, when it was actually Straffi who chose to aim the show at younger children. Reflecting on this, Straffi said in 2019: "Nowadays, it's very difficult to get a 10-year-old to watch cartoons. They all go for the live-action... When your [new] target is 4-to-8, your story cannot have the same level of complexity as the beginning seasons of Winx... The fans of the previous Winx Club say on social media that the new seasons are childish, but they don't know that we had to do that."[11]
Website Games
Trivia
Nickelodeon USA includes regular Nickelodeon, Nicktoons, TeenNick, Nick at Nite, Nick Jr, and the Noggin app.
Nickelodeon UK includes regular Nickelodeon, Nicktoons, Nick Jr, and Nickelodeon HD.
Nickelodeon Canada includes regular Nickelodeon and a channel formerly known as Discovery Kids.
Many international Nickelodeon websites have been combined into one global site.
Nickelodeon Canada opened up in November 2, 2009 which was the start of Season 4 and did a marathon for it since it just opened up. They also marathoned Season 5.
The Winx Power Show performed at Nickelodeon's European Kids Choice Awards in 2007.[12]
External links
References