Wow, did I just say that?

This article is a B. It is missing three or fewer sections, or some images need to be added. Please do what you can to help!
Nimeria is a witch who attends Cloud Tower.
Appearance
She has fair skin, red lips, grey eyes, and short dark blue hair. She wears a red choker, a red dress with straps and a dark blue gem at the chest. She wears purple leggings with a pattern, and dark colored shoes.
Personality
Not much is known about Nimeria's personality but, in issue 44 she's show to be flirtatious. As her and Pulisatilla order many things so Adrian goes back to their table many times wanting to keep him around for as long as possible.   
Series
Seasons
Movies
Magical Adventure
She is seen at Cloud Tower in a class with Griffin, trying to learn how to transform. She successfully turns into a ogre that looks like Knut. She is later seen at Alfea during Alfea's new school year party along with the other Cloud Tower witches. 
Comics
Season 3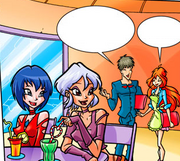 Nimeria makes her debut more than halfway into the issue, The Loyalty Game, at the White Horse café beside Pulisatilla.
After assuring Adrian that everything is fine, Bloom asks him how his first day on the job is going. Adrian tells her that everything has been going well with her teaching him but a pair of witches, Nimeria and Pulisatilla, have been ordering many different things one at a time, which is causing him to make a hundred trips to their table and back. Bloom then smiles and tells Adrian that they are doing so because they like what they see and want to keep him around for as long as they can.
Magical Abilities
Like all witches, her powers are derived from the negative aspects of magic. Nimeria may know some basic, first-level spells that all witches can use, such as telekinesis, transmuting objects, and fixing minor messes. Like all witches, she can fly. She has been shown to be able to transform into a ogre that looks like Knut.