Oppositus
is a planet in the
Magic Dimension
where opposites exist in total harmony.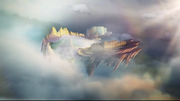 Overview
Oppositus is a planet in the
Magic Dimension
where opposites exist in total harmony. Guard are lazy and alert all at once and inhabitants prefer matches that are opposite to themselves. Unlike other planets, which are spherical, the top surface of Oppositus is flat, with its bottom surface being covered in large pointy rock projections and a large spiral tower at its center.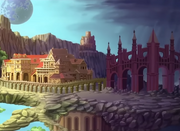 In Season 7, Kalshara mentions that Oppositus has a royal family, implying it is ruled by a monarchy.
Series
Seasons
Valtor attacked this planet seeking its magic treasures in his quest for power. After the attack, everything on Oppositus became unbalanced until Valtor was defeated.
Trivia
The name of the "Oppositus" is derived from the Latin word "oppositus", which means opposite.
Realms

Dimensions

Schools

Locations
Community content is available under
CC-BY-SA
unless otherwise noted.